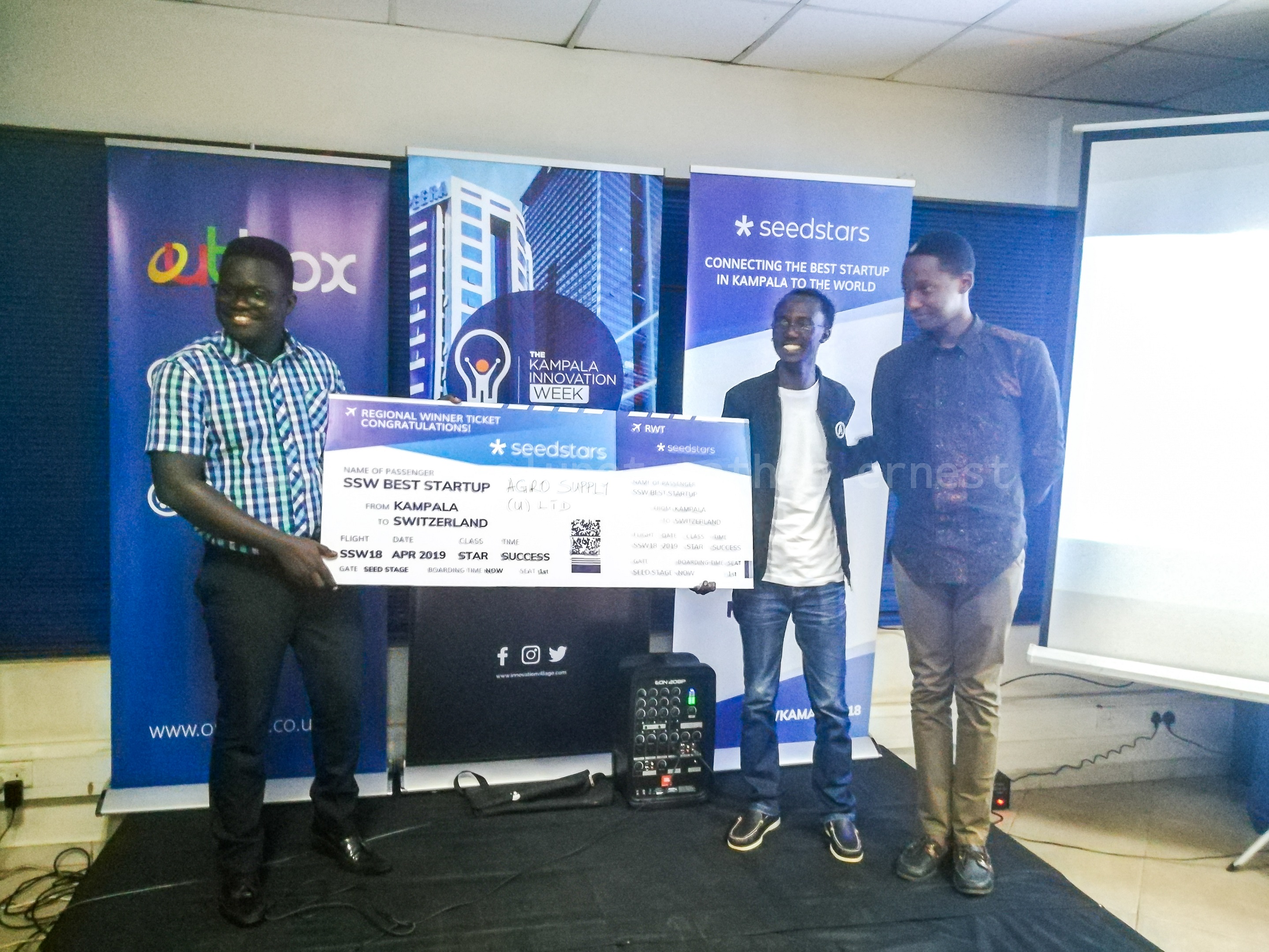 On Monday this week, the jury at Seedstar selected 10 Ugandan startups from different industries including; eCommerce, AgriTech, FinTech, Business, to mention a few to participate at the Seedstar Kampala pitch.
At the pitch event held at Outbox Hub on Friday, 10 finalists pitched their business startups to judges; CK Japhet; Team Leader at Innovation Village, Otim Gerald; Founder of Ensibuuko, Takuma Terakubo Founder and CEO of Leapfrog Ventures, Maryam Mgonja; Associate for East Africa at Seedstars, and Herve Kubwimana, Innovation Facilitator at Merck where only 3 teams were named winnners
Coinpesa Limited; an online money transfer platform that uses Blockchain technology – allows its users to access digital currencies from any web enabled device and Bringo Fresh Deliveries Ltd; an eCommerce solution behind farmers accessing an organised market for their fresh produce, came in 2nd and 3rd places respectively as Agro Supply Uganda Limited emerged overall winner of the Seedstar Kampala pitch competition.
Agro Supply Uganda Limited, a solution that is financing agricultural technologies through mobile micro savings – was represented by a team of two; Ogwal Joseph; Founder and Chief Executive, and Watson Atwine; IT Specialist – but the whole team comprises of 5 members.
Their solution allows small scale farmers save for fertilizers and seeds by purchasing a prepaid scratch card which costs about 50 cents to USD$50 and decide whether to save it for fertilizers or for seeds. They deposit their money into a layaway account by texting in the scratch-off code from the scratch card they purchased.
However, the farmer isn't given the money during withdraw but s/he is given either fertilizers or seeds upon their choice. For instance, if the farmer has been saving UGX200,000 for fertilizers, and UGX150,000 for seeds, s/he can decide to buy fertilizers say for like UGX150,000 leaving them with a balance of 50,000 on their account. The UGX150,000 separate for seeds isn't touched at all.
The team while in December travel to Tanzania to attend a regional summit where they are to meet other finalists within the content. All the finalists will be mentored, meet with investors, as well as showcase their products, and network with others. After then, they will together with the rest of the finalists, travel to Swizterland for the Seedstar Global event, where they will meet over 60+ global startups that they will compete with for a chance of securing USD$500,000 equity investment.
Notably, past startups that have represented Uganda at the global summit are; Numida (2017); issues unsecured loans to credit-constrained Ugandan entrepreneurs, Akiba (2016); that aims to transform finance by making it collective, giving people the tools for practical and transparent management of their finances, and Intership UG (2015); a startup that allows users to shop from online shopping sites in the United States (US), United Kingdom (UK), Dubai and China and have their packages delivered to Uganda.