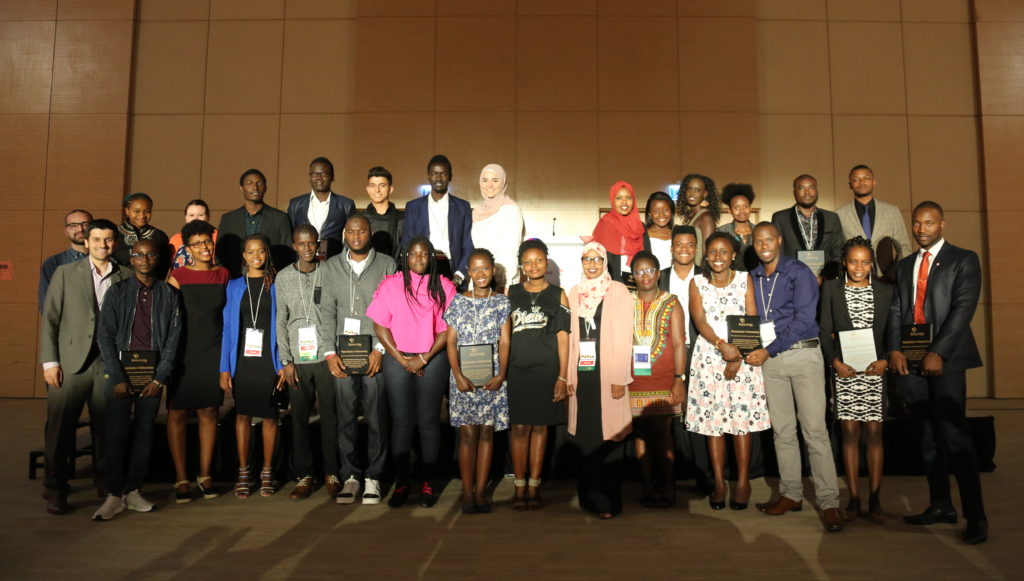 Three Ugandan startups; Girls Alive Uganda, Rabbits for Education, and Youth Empowerment Initiative (YEI) were among the fifteen teams out of a total of 32 emerging African social entrepreneurs to emerge winners of the 2018 Resolution Social Venture Challenge. Kenya took the lead with four of its startups; One Urban Garden, Let's Fight Cancer: Screen It And Suppress It, HappyDel, and Cactus Mama named among the winners.
All the 32 finalists of the Mastercard Foundation Scholars gathered in Rwanda to compete in the Resolution Social Venture Challenge (RSVC) – an initiative of the Resolution Project and Mastercard Foundation. The challenge was founded in 2007 to identify young leaders, to empower them to make a positive impact today through Resolution Fellowships. Through the fellowships program, the selected applicants are provided with seed funding, mentorship, and access to a network of young global changemakers to pursue impactful projects in their communities.
"Africa's young leaders are brimming with talent, ideas, energy, and a deep desire to have a positive impact on their communities. Yet few young people receive the support and tools they need to ensure a project or social venture they want to undertake is successful," Ashley Collier, Manager of Youth Engagement and Networks at the Mastercard Foundation said in a press statement.
He further stated that by winners of the Social Venture Challenge have earned themselves resources, network, mentorship, and capital they need to implement their venture and to maximize their impact.
The 15 winning projects addressed a wide range of challenges scholars have observed first-hand in their communities, including digital literacy, a lack of mental health supports, access to sanitation, and climate-smart agriculture.
About the 3 Ugandan startups
1. Girls Alive Uganda (Tororo)
Girls Alive Uganda comprised of 3 students from Makerere University; Marion Apio, Lokolimoe Susan Hilda, and Mutoni Suzan came up with a solution that aims to address the lack of sanitary materials for vulnerable girls in Tororo District, Uganda. The project will produce and distribute affordable sanitary pads to reduce high rates of menstrual-related school absenteeism, which remains a key barrier to girls' education in Uganda.
2. Rabbits for Education (Kamwenge)
Myres Ndyabawe and Narinda Shirah from Makerere University developed the Rabbits for Education project addressing the problem of primary school drop-out rates in a government-aided school in Kamwenge District, Uganda. The project will provide participants with rabbits and will equip them with the skills they need to raise and care for them. The initiative also will help participants find a market, so they can generate income to support their education.
3. Youth Empowerment Initiative, YEI (Arua)
YEI developed by David Gai and Akot Arkanjelo from Makerere University is an initiative that aims to build the capacity of youth and support primary school education in Yumbe District, Uganda. The project recruits and trains youth mentors to provide mentorship to primary school children and provides textbooks and lesson revision materials to upper primary classes.
The other winners were; One Urban Garden (Kenya), Women For Peace Library (Malawi), Mission Possible (Cameroon), Let's Fight Cancer: Screen It And Suppress It (Kenya), IGem (Sudan), HappyDel (Kenya), Green Shift (Lebanon), Sua IT (Ghana), GamFruits (Gambia), Cactus Mama (Kenya), ZimDigester (Zimbabwe), and Solace For Somaliland Girls (Somaliland).