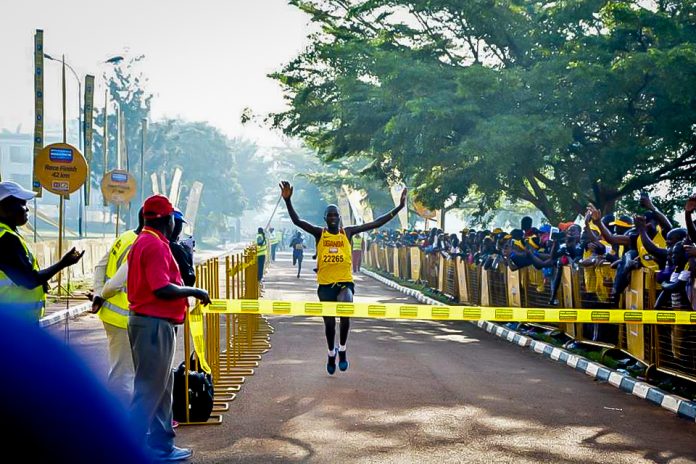 Kololo Independence ground on Sunday 19th, November gathered over 30,000 participants for the 2017 MTN Kampala Marathon. The sporting event being one of Uganda's largest event brought participants from all over the world to come run for a cause, and also giving back to the community.
For the pervious years, participants were running for one cause, but telecom firm; MTN Uganda this year made several changes including; participants choosing what cause they would represent either improving Komamboga and Kiswa Maternal Health Centers or Reducing Child Exposure to Cancer. In addition, they also increased on the cash prize of winners, and also awards medals to participants that finished in the top 100 positions.
From the initial statistics, 56% of the registered runners chose to contribute to maternal health while 44% selected reducing cancer in schools.
As of today, the teleco firm has released the results for all participants that took part in the 14th annual MTN Kampala Marathon which are now available online. The results include the time posted for each runner, giving an opportunity for participants to view how they performed. On top of people viewing their results, they can also download certificates through the provided link, share their results on Facebook and Twitter.
Speaking to a section of the press following the close of the marathon, The Chief Marketing Officer of MTN Uganda Mr. Olivier Prentout was elated at the turnout.
"This was our 14th edition of the MTN Kampala Marathon and we as management, staff, partners, and sponsors were all truly impressed by the numbers of not only those who registered to run but also well-wishers, marathon enthusiasts and corporate companies that turned up," Olivier stated.
Notably, at the elite end of the marathon, there was an improvement shown by Ugandan runners compared to previous editions when it came to results in the full 42km marathon and the half marathon 21km category. Whereas Kenyans took top honors in the elite 42k race for men and women races, Ugandans took 13 out of the 15 available slots in the Top 5 positions of the 42k, 21k and 10k race for both men and women.
In the 42kM, 21kM and 10kM race for both men and women, Ugandans took 13 out of the 15 available slots in the Top 5 positions #MTNMarathon #RepresentYourCause

— OLUPOT NATHAN ERNEST (@iam__one) November 19, 2017
This indeed was a better showing by Ugandans from previous events and this showed how important the MTN Kampala Marathon is in providing an avenue for Ugandans breakout marathon runners to show their talent and potential before selection for bigger marathon events like IAAF circuits and other international events.