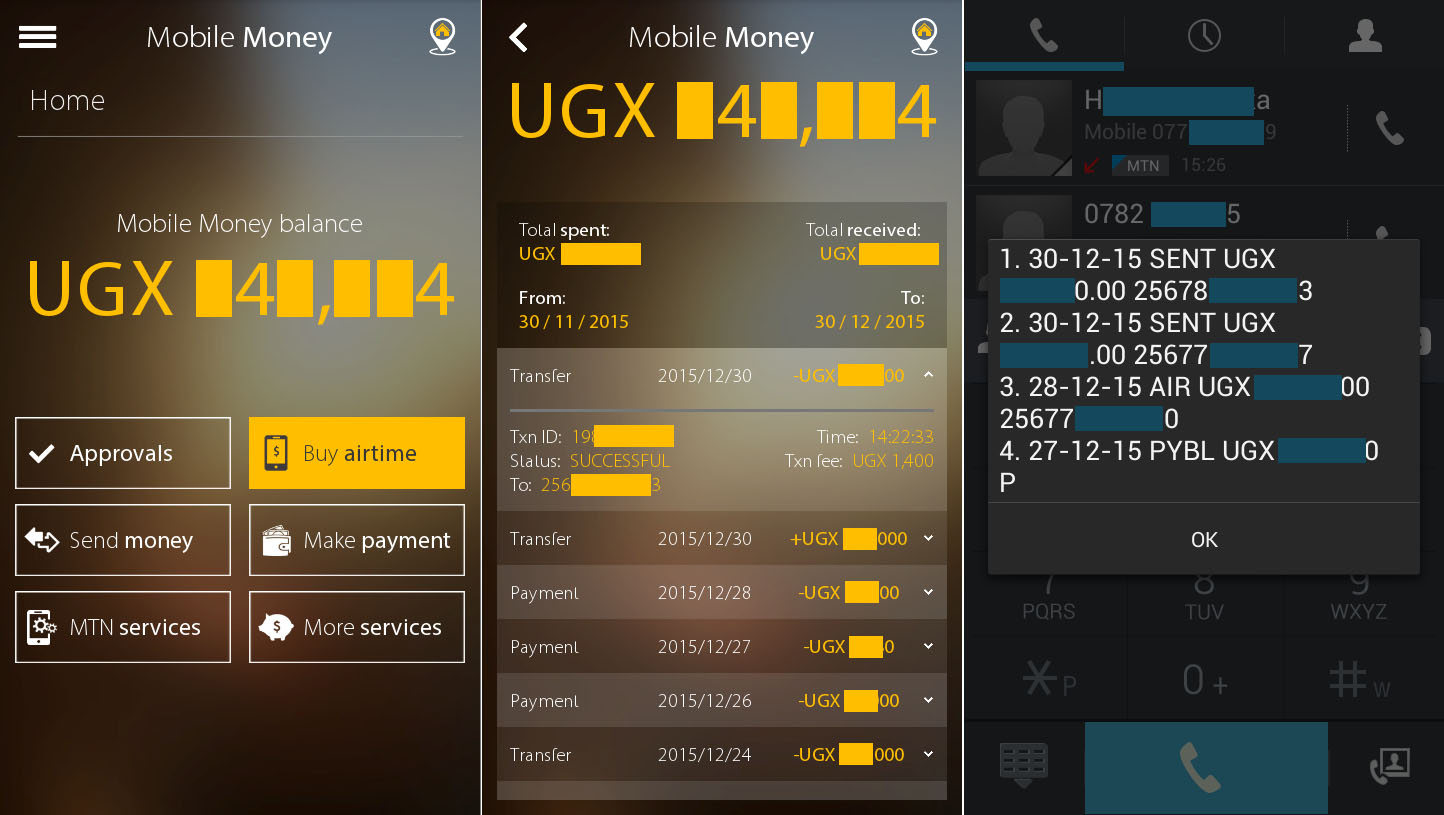 Launched in 2009, MTN Mobile Money was initially seen as a way for mobile users to send and receive money around Uganda. And for a long time, that's what most subscribers used it for. Buying airtime was an additional service, but over the 6 years since its launch, it has grown leaps and bounds to become an important part of our society.
One of the areas where Mobile Money is enjoying impressive usage and growth is mobile payments. You can now pay for goods and services, utility bills, school fees, food and online purchases with Mobile Money. You can even buy an air ticket on Mobile Money!
"The ease and convenience of Mobile Money can best be illustrated by how widely it has been accepted as the preferred method of payment for bills and utilities. Today, more than 70 percent of all utility bills are paid through the MTN Mobile Money platform," said MTN Uganda's General Manager for Financial Services, Phrase Lubega at an event in October this year.
In terms of payment of utilities, UGX 8.2 billion worth of Umeme bills are paid through mobile money, with 71.42 percent going through MTN Mobile Money. MTN also collects about sh2.1 billion water bills through mobile money, which is 74.55 percent of total volumes collected.
The popularity of mobile money payments and financial services is quite clear when you look at the numbers closer. There has been consistent growth in subscriber numbers, number of transactions and total transaction value. The fact that over 70 percent of bills are paid through mobile money and not banks or other services like PayWay shows that it's indeed very popular among users.
Robert Rutare a businessman in Mbarara says he uses MTN Mobile Money for his payments because its more convenient than his bank.
"I use mobile money to buy Yaka units and to pay water bills because its very convenient. Even if I get home and the children tell me that Yaka is nearly finished, I can just buy from my phone. I know I could pay for free in my bank, but the bank isn't very user friendly because you have to travel to the bank and yet they close early," Robert said.
It's indeed true. For example for a UGX 20,000 bill payment, you are charged 1,600 whereas the same would be free in most banks, PayWay or if you paid directly at a Yaka Payment point. So users are willing to incur the charge for the convenience that Mobile Money brings to the table.
Now let me introduce you to more convenience in form of the MyMTN smartphone app.
The MyMTN app was launched in Uganda earlier this year, and runs on Android, iOS, Blackberry and Windows. With the app running on these 4 platforms, it's got all bases covered as these are the most popular platforms in Uganda.
You must have heard of the app by now, and probably even installed it. If you've been regularly using it, congratulations, you've already learnt the features that I am going to highlight below!
I must confess I was a bit slow to install and use the app after looking at other telco apps that didn't quite work, or even have useful features. But when I finally did and run through it, I realized it's the smart way to be using your MTN services. But Mobile Money stands out to me because the app expands on the USSD experience in a really big way.
Here's a few reasons why I think the MyMTN app is the smart way to use Mobile Money:
Good bye USSD
When you use the MyMTN app, the first thing that you will quickly enjoy is the convenience of the app's interface. Tapping a menu item is way easier than typing *165# then responding with 1, then 2 etc. Once you've used the app, you'll find the USSD so tedious that you'll never want to ever use it again.
Another trick in the app's bag is that it's got a longer timeout, so if you are making a payment while watching news, you don't have to worry about starting afresh when you were at the final step. However, because of the neat features in the app, you may never actually get timed out.
MyMTN never forgets
OK let's go beyond the looks, let's look at the real stuff. Have you managed to memorise your Yaka number? Don't worry, there's nothing wrong with you, very many other users have to look for the card or check SMS from previous payments before they can pay again.
When you make the payment in the app, it remembers your number and payment amount, so next time you simply tap the payment, enter amount and pay.
Using USSD, when you want to see your previous transactions, you dial *165# then "00" to go to next page then "11" to go to My Account, then "2" for Mini statement, then enter your pin, only to be shown only the last 4 transactions.
The app gives you access to transactions of the last 1 month at a single touch. Simply touch your mobile money balance to view your account.
In addition to listing the transactions and values, it gives you details not available on USSD like the transaction ID, date, time and fee.
Smart app
When you are sending money to a mobile user, again you need to recall the number from memory, or first write it down before starting the process. With the app, you can actually search your phonebook and select a contact and proceed to send the money.
Is that not cool enough? How about being able to pay for goods or services without having to remember their merchant code? The app lists the common ones so you can scroll through the list and simply tap the one you want to pay, but you can also search if you can't quickly see the one you want.
You keep forgetting to top up your Yaka or to pay your DSTV subscription? Inside the MyMTN app you can set up scheduled payments and you forget about that!
No data bundle? No problem
The app is zero rated, so when you use it on MTN, you don't need to have an active data bundle. This particularly comes in handy when your bundle has expired and you need to load some airtime from your mobile money balance to buy another bundle.
So these are some of my reasons for converting to the MyMTN app, am sure you have others since I've only talked about the Mobile Money section, yet the app has also got SelfService, and I've not yet fully exhausted it.
You can download the app on Android, iOS, Blackberry or Windows Phone.
Tell us in the comments about your experiences with the MyMTN app.