There's no burden like that of being the one tech-head in your social or family group.
Simultaneously revered for your arcane knowledge and looked down upon for your weird tech fetish, being the resident gadget expert is tough.
Among other things, it's a position that requires you to have a perpetually updating list of cool tech recommendations sat somewhere near the front of your brain. These are the situations where you don't just want to show off or talk about the best tech on the market – you want to impress with smart, cool, and relatable gadgets.
Allow us to help. This isn't a list of the best tech out there at the moment – it's a run down of the alternatives, the things that you wouldn't expect. Someone tells you they want a tablet but not an iPad? How about one with a projector in?
What about VR? Anyone doing anything cool with that? We've got you covered. Read on, and see what cool, alternative and intelligent things are spewing out of the tech world right now.
BlackBerry Priv
Yes, we are recommending a BlackBerry in a 2015 list of desirable gadgets. Why? Because the Priv stands out a mile in a market filled with me-too smartphones.
There's always at least one non-techy mate who bemoans the modern smartphone typing experience. Said person usually has a BlackBerry for a work phone and an iPhone or an Android phone for a personal phone. If only the two could meet as one beautiful hybrid device, all of the world's problems would surely be fixed.
The BlackBerry Priv is that phone. It runs on Android, and has a large, curved, 5.4-inch QHD OLED touchscreen display to match. Yet, lo and behold – a slight nudge slides out a full BlackBerry keyboard for speedy and mistake-free emails. It's the best of both worlds and a true show stopper – to a certain type of person, at least.
Lenovo Yoga Tab 3 Pro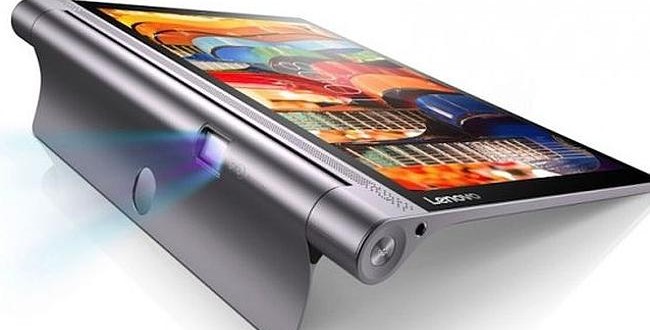 For a while now, the number one choice for tablets has been the iPad range. With the Microsoft Surface offering a top-end hybrid alternative, it's perhaps become difficult to work up much enthusiasm for a new Android tablet.
Meet the Lenovo Yoga Tab 3 Pro, which achieves just that. Here is a premium 10-inch tablet with an unusual asymmetrical design and a couple of well though-out and innovative features.
A vibrant QHD display and a built-in kickstand-cum-hook serves to make the Yoga Tab 3 Pro a great kitchen media player, but you're wondering how we can feature this over the best from Samsung or Sony.
Well the unexpected delight of its built-in pico projector gives you the kind of on-the-fly widescreen options that could very well revolutionise your trips and presentations. And it's a projector. In a tablet.
Microsoft Band 2
Fitness trackers have got to a point where they're almost uniformly useful and comfortable. While most can measure your heart rate, however, few can raise it.
Microsoft's stylish second-generation fitness tracker, the Microsoft Band 2, goes the extra mile. It's got 11 sensors for tracking heart rate, calorie burn, sleep quality, and more. It even has a barometer so it knows what altitude you're operating at.
Beyond that, the Microsoft Band 2 will work in conjunction with your smartphone (Android, iOS, or Windows) to provide workout insights, email notifications, and more. It'll even help you with your golf swing if your friends with those kinds of people.