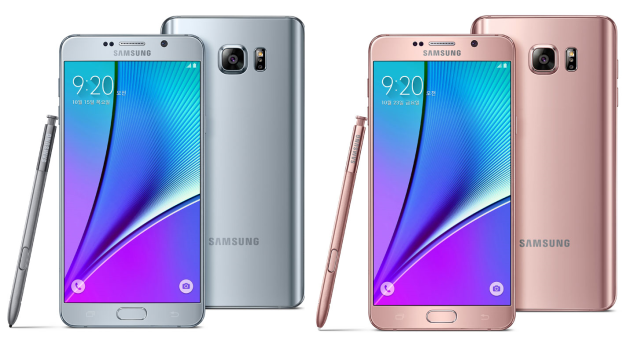 Are you hardcore Android but envious of your friend's rose gold iPhone 6S? Fret not, you can now get your dose of Android goodness in a similarly colored Samsung Galaxy Note 5.
On Thursday, the South Korean company announced it will be releasing the Galaxy Note 5 in two new colours, titanium silver and pink gold. Particularly noteworthy is the pink gold variant, which seems to be a direct response to Apple's rose gold iPhone 6S.
Though the announcement only pertained to South Korea, a Samsung spokesperson told CNET that "the introduction of new colour variations for the Galaxy Note 5 will gradually be expanded to other Asian countries but release details are still being worked out."[related-posts]
The smartphone, which has been praised for its strong build quality and camera, now comes in five colours: the new two options, as well as the original gold platinum, black sapphire and white pearl.
Samsung certainly has reason to boost its lineup ahead of Apple's new offering. 13 million iPhone 6S units were sold during the device's first weekend of availability globally. Meanwhile, market analysts at TrendForce expect that Samsung's global smartphone shipments in 2015 will see a 1 percent decline from 2014, following seven straight quarters of falling profits for the company, which is still the industry marketshare leader.
[
CNet
]