In 2013, Facebook partnered with a number of multinationals to launch a project they claimed was going to connect the remainder of the world's population that's still out of reach of the Internet.
"Internet.org is a Facebook-led initiative bringing together technology leaders, nonprofits and local communities to connect the two thirds of the world that doesn't have internet access," they say. And they are so passionate about it. In fact, while taking questions from Facebook users in a rare, and a bit bizarre Q&A on June 30th 2015, Facebook CEO Mark Zuckerberg reiterated the company's commitment to this project, and spoke about the need to connect everyone on the planet.
But there are questions about Facebook's agenda, and whether Internet.org will truly only help connect the unconnected, or if it'll push Facebook's hidden agenda.
The topic took center stage on one of the panel discussions at the Global Media Forum in Bonn, Germany, last week. Along with Facebook's Head of Public Policy for Africa Ebele Okobi, AppsTech CEO Rebecca Enonchong, South Africa's The Reach Trust CEO Andrew Rudge, I was part of a panel moderated by UK-based Russell Southwood of Balancing Act Africa, that discussed whether such initiatives to put Africa online are acts of empowerment or exploitation.
"As most digital markets become saturated, all eyes are on Africa. In their eagerness to generate the next two billion users, international companies are striving to get all Africans online. Sometimes, however, their initiatives contain only a limited selection of Internet services," said Southwood as he introduced the topic.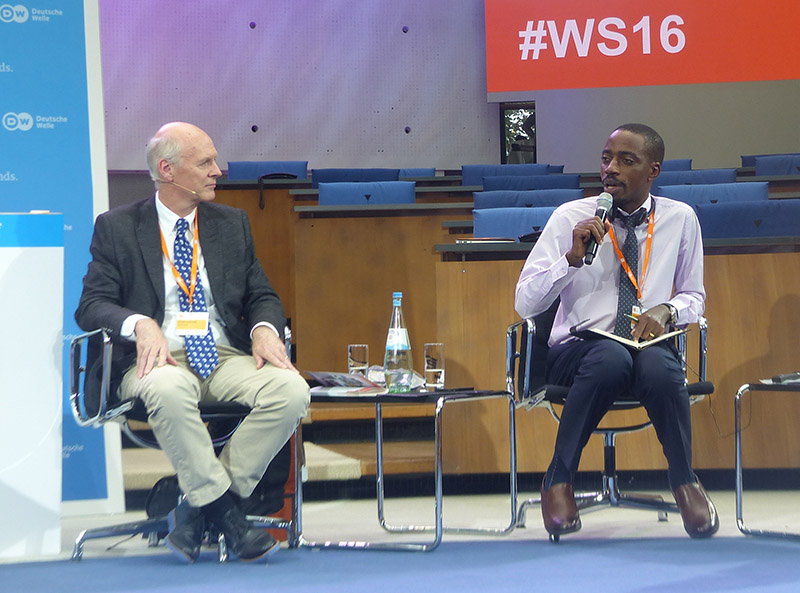 Only a limited selection of services: and that's the problem critics have with Internet.org. In countries where they have so far launched, Internet.org offers "free basic services". Such services, of course, include Facebook and Facebook Messenger, Operator (partner) services, Unicef content, and a few selected other services.
The challenge with such is it gives an unfair advantage to the services benefiting from this partnership.
"Put it this way: if MySpace had been free, there would never have been Facebook," said Kyle Spencer, a very passionate advocate of net neutrality.
He explains that services such as Internet.org, if unchecked, are extremely non-neutral and anti-competitive. Indeed, Internet.org has been criticized for violating net neutrality and favoring Facebook's own services over its rivals.
Net neutrality is the principle that Internet service providers and governments should treat all data on the Internet equally, not discriminating or charging differentially by user, content, site, platform, application, type of attached equipment, or mode of communication [source: Wikipedia].
Facebook says it does not stop anyone from partnering with them to add their services onto Internet.org. Yet that, in itself, is another problem. What will happen to the next possible Facebook if everyone is already using Facebook as if it were The Internet? The reality is Facebook sees itself as the Internet. They hope at a certain point when one thinks about Internet, they will think about Facebook.
In the Q&A, Zuckerberg shared some insights about his vision for Internet.org.
"First, we're working on partnerships with operators to deliver free basic internet services around the world. This is already live in more than a dozen countries and more than one billion people can already access these free basic internet services," he wrote.
In Bonn, Ms. Ebele told the 800+ delegates that Facebook isn't paying any money to operators (ISPs) as part of the Internet.org partnership. So the question is; would MTN accept a scenario where all Internet services were accessible for free? It means Facebook's argument that everyone's welcome to put their content on the Internet.org app is not practical.
Uganda's Vision Group CEO Robert Kabushenga, a delegate at the Global Media Forum, disagreed with the argument that Facebook could end up exploiting, rather than empowering Africa.
@albertmuc we can't 1st solve imaginary problems of connectivity then connect Africans. Let's connect Africans 1st then deal with problems

— Robert Kabushenga (@rkabushenga) June 23, 2015
He argued that solving connectivity problems is paramount, regardless of anticipated cost. That was before the argument that some people can't even read and/or write!
Ms. Ebele also found himself the target of various questions when she suggested that Facebook may not be making significant amounts of revenue from Africa in response to questions about tax.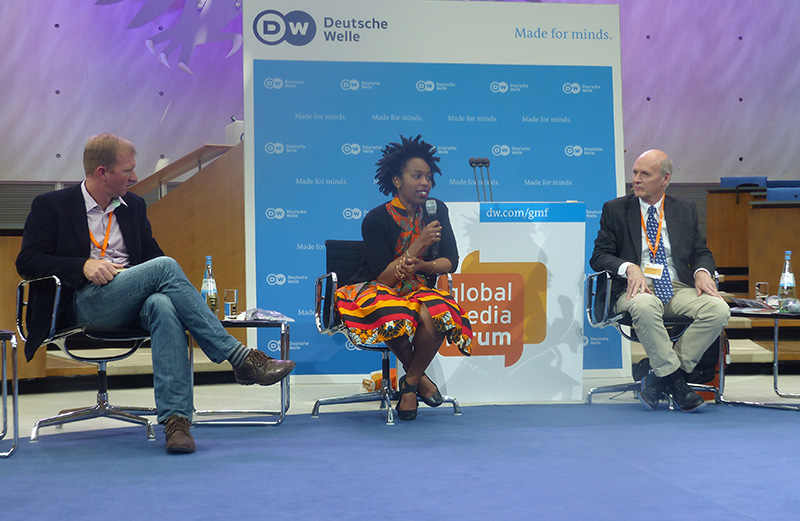 The world's largest social network makes millions of advertising on the African continent but does not pay taxes to any African government. That problem remains unresolved.
It needs to be stated, though, that before joining Facebook, Ebele was the founding Global Head and Senior Legal Director for Human Rights at Yahoo, where she led global efforts to address the legal and policy issues related to privacy, free expression and access.
But back to the future, Zuckerberg revealed some more insightful information about Internet.org.
"Second, we're working on new technologies that can extend internet connectivity even further. The main three things we're working on are drones, satellites and lasers," he said as he continued to answer the question about what to expect from the project.
"The idea is that in the future, we'll be able to beam down Internet access from a plane flying overhead or a satellite flying way overhead — and they'll communicate down to earth using very accurate lasers to transfer data. We've already talked about some of our efforts in these areas, and we'll have even more to share soon," added Zuckerberg.
"This work is very important because internet connectivity brings jobs, education, health and communication," he concluded.
So imagine a world where all of the people you knew had access to the Internet, and did so through one network called Facebook!
You can read the full Zuckerberg Q&A here!