Features
Affordable Cloud-Based Video Conferencing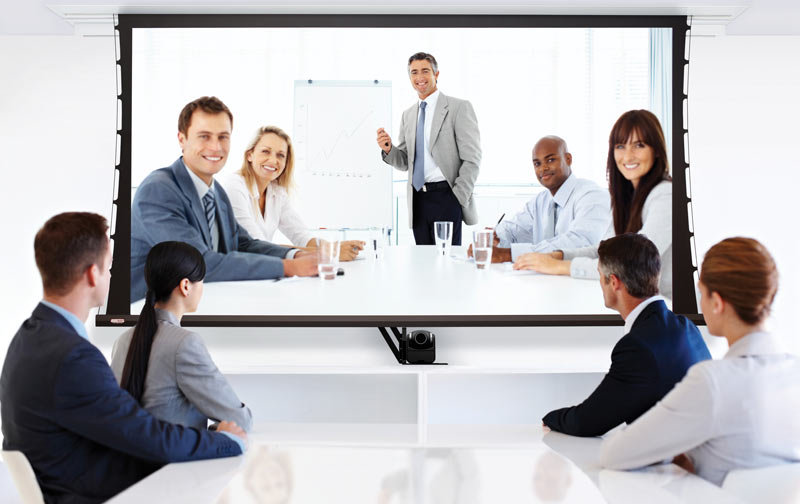 FaceTime and other device to device video conferencing is nice when you want to talk to a friend or family member who is out of town, but when your communications needs go beyond one or two people, a bigger platform is require. Cloud-based video conferencing by Blue Jeans is the next big step in e-meeting service development. The technology allows a nearly limitless number of individuals to join an online meeting. Cloud-based video conferencing by Blue Jeans and other top providers is becoming much more popular with big businesses, organizations, and universities, expanding global communication and the sharing of information in real-time, personal way.
Who Can Benefit From Cloud Conferencing Services?
Any large organization, from companies to schools and major organizations can use cloud-based video conferencing technology to hold conferences, offer online classes, and host meetings and training seminars. Sales teams can use large scale video conferencing to present products to several direct contact clients all at once. HealthCareITNews.com explains that doctors can even use video conferencing to meeting with specialists across the country to plan specialized patient care, improving health care services. This is particularly useful for doctors in rural areas where residents do not have easy access to specialists, explains HealthcareITNews.com. Online classes are increasing in popularity, but when they originally came out, the technology only allowed for students to watch lectures professors had recorded and then type messages in a forum. But with live, cloud-based video conferencing, students can now interact with their professor and classmates in real time. Real time discourse enhances discussions and promotes critical and creative thinking.
What Advantages Do Cloud Conferencing Services Offer?
The Virtual Corporation of America explains that the benefits of cloud-based video conferencing goes far beyond the ability to communicate with numerous people at different locations, in real time. One added benefit of the cloud storage technology is that meetings that are held via cloud conferencing can be recorded, stored, and accessed via the cloud. Eliminating the need for someone to take notes or have one centralized recorded record on video or tape record. Being able to automatically record and store meetings, conferences, and other online group gatherings allow you to go back to a meeting to review what was discussed and agreed upon. Helping to reduce misunderstanding and miscommunications as well as memory lapses. There are also the obvious benefits of cutting down on travel, opening up jobs to those who need to telecommute, and being about to attend a meeting in Beijing from your home in Chicago, without having to fly half way around the world.
Along with creating an easy way to keep track of meetings and increasing the convenience of scheduling meetings, being able to video conference with a large group can also lead to more efficient operations. For example, a group of new employees can be on-boarded through an e-meeting for training, coupled with virtual document sharing and signing, saving time. Hooking up to document sharing systems, instant messaging boards, and presentation tools such as PowerPoint all serve to enhance your conferencing power and effectiveness of information sharing.
How Does Cloud Conferencing Save Money?
If you run a business and are looking for ways to cut operating costs, start by contacting Blue Jeans for a cost-effective video conferencing plan. Utilizing video conferencing technology can save you money when hosting meetings and conferences as you will not have to pay for travel and hotels, per diem meals, and/or catering and conference venues. The service will also save you money on hardware and software as their cloud-based video conferencing can be used on practically any mobile device or computer that is equipped with a webcam, microphone, and speakers. The multi-platform option makes it easy for potential customers, clients, and investors who may not be using your company's network to link up to your e-meeting.
ReferencesForBusinesses.com outlines how video conferencing has evolved into a game-changing tool that is improving how businesses operate. One of the biggest contributions to success of many enterprises is the ability of creative minds to collaborate; live video conferencing makes collaboration easier and more efficient.
Engineers and other inventors can join a video conference, view prototypes, and ask questions all in real time, helping to encourage brainstorming of ideas and problem solving. In the same sense, the technology has helped increase the success rate of direct sales as a salesperson can demonstrate a product to numerous people. Allowing them to ask questions in real time, and gauge the salesmen's facial expressions and body language, which is a proven tactic for increasing sales. The same technology has helped improve medical care in rural areas by bringing top specialists to one-horse towns and expanded the reach of education by making live online classes a reality. The uses are numerous and affordable cloud-based video conferencing from Blue Jeans means that more people have access to this ground-breaking technology.