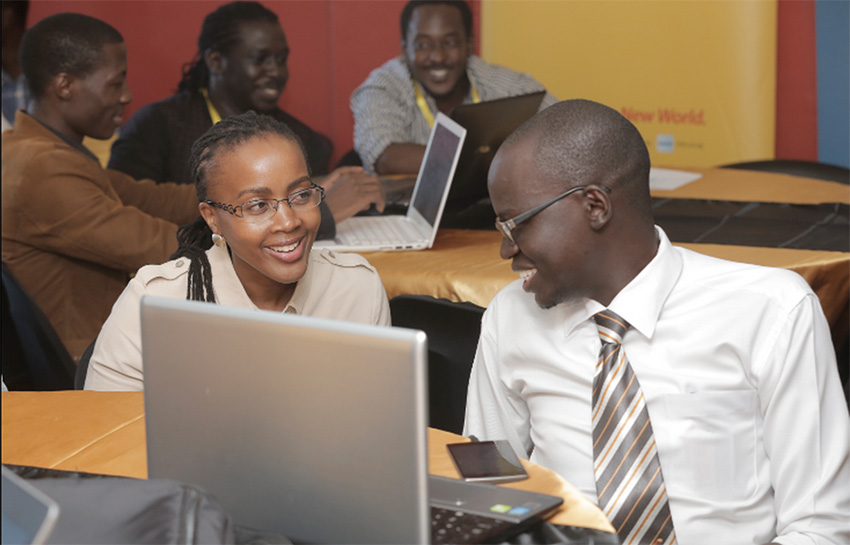 MTN Uganda today kickstarted the 3-day app development challenge in which developers have been tasked to come up with innovative prototypes of mobile-based solutions under the themes M-Health, M-Finance, M-Business and M-Entertainment.
The competition has been organized in collaboration with Outbox, a leading innovation hub in Uganda, and Garage 48. It has brought together 100 brilliant minds to turn ideas into technology innovations.
The MTN App Challenge was intentionally opened up for both students and non-students with the aim of gathering people from different fields and skill sets and uniting them into well-working teams.
Introducing the idea owners @ the @mtnug App challenge #MTNInnovate pic.twitter.com/QVi7HwZ5Fq

— Outbox (@OutboxHub) May 29, 2015
Speaking at the launch ceremony, MTN Uganda Chief Marketing Officer, Mapula Bodibe said:
"As a leading ICT brand in the market, MTN believes a strong focus on digitization will usher in a new world order for emerging markets. This involves providing and supporting platforms that enable technology infrastructure development and advancement," said Ms. Bodibe.
"To this end, MTN has a strong focus on the development of digital services and through the app challenge, we believe we will be well positioned to help create solutions that, if successful, would continue MTN's vision of a new, ICT-lead world," she added.
She challenged participants to be change-makers rather than just critics.
"Each one of us has products that we love to use and criticize. Through this challenge, MTN is giving you an opportunity to stop the criticism and do something about it," noted the CMO.
In a country that still relies so heavily on Agriculture, ICT Innovation as been at the forefront of driving and delivering life impacting solutions. Through competitions like this, MTN aims to tap into the passion of the technology and change enthusiasts in Uganda to stimulate creativity, entrepreneurship and the incubation of startups that would accurately help to alleviate unemployment.
This edition of the MTN App Challenge is part of a longer journey in which MTN Uganda looks to unlock the innovation potential of the country; the climax of which will be the launch of The Innovation Lab later this year.
The launch also featured a keynote address from Fundi Bots founder Solomon King who commended the competition as a key platform to enable people do more with technology.
"The MTN App Challenge is a great opportunity to build great applications that will change how people use technology. It's also an amazing platform to build teams that can harness various skills to bring a product to life," said Solomon King.
He also challenged the developers to ensure they work on solutions they're able to commit to for the long term.
"As the ideas take shape over the weekend, I encourage the application developers to build for scale and sustainability and to explore the idea of an international market, which means long term global business strategies and growth partnerships," he added.
MTN's vision is deliver a bold, new digital world, and as such, MTN Uganda is looking to, through this any other future initiatives, continue concentrating its efforts on creation of brand new digital applications that will – in line with the nation's transformation agenda.
The winners fro each category will get a cash prize of $2,500 each in addition to promotion and commercialization on the MTN App Store and a number of other incentives, while the Audience's favorite will get a cash prize of $1,000 and Internet for 3 months for all team members.
Winners will be announced on Sunday 31st May, 2015.