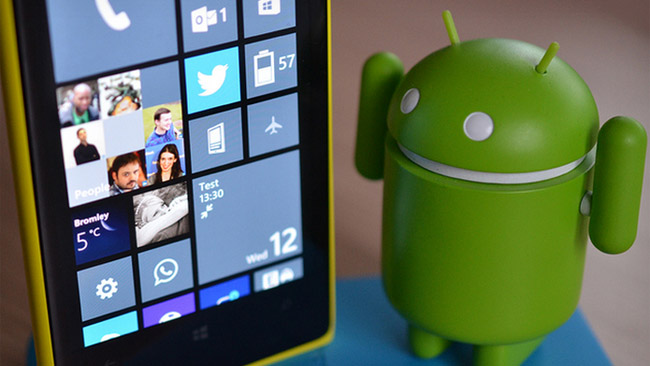 Everyone is different, and every individual has different needs or wants. So for those trying to decide on a new smartphone, they could get a bit overwhelmed, as there are tons of choices available. It's a daunting task especially if you're not up with the latest news.
In recent years, it seems the debate has evolved from simply brands to more sophisticated features such as what operating system does a particular Smartphone use.
For those seeking a wallet-friendly smartphone, do not worry because you too have been catered for in this race aimed at amassing numbers.
The bigger picture though, as it appears a decision that one has to make…either choose a Windows Operating System or an Android one.
Android is the name of the mobile operating system made by Google. It most commonly comes installed on a variety of smartphones and tablets from a host of manufacturers offering users access to Google's own services like Search, YouTube, Maps, Gmail and more.
Android phones are highly customizable and as such can be altered to suit your tastes and needs with wallpapers, themes and launchers which completely change the look of your device's interface.
Because of these easily adaptable features, android powered smartphones are popular amongst the young and hippy.
Ok, step aside Android for a moment, we'll get back to you in a moment! Enter Windows powered smart phones.
According to a commentator, when you choose a Windows Phone device, you get a smartphone that's incredibly advanced, yet incredibly simple.
To cut the long story short, Microsoft that last year completed the buyout of Nokia's Devices and Services business has launched a wide range of Windows 8.1 powered phones that are revolutionizing and seemingly tilting the bar in the smartphone market.
Microsoft's recent history with Nokia has been a fruitful one as it has helped put Windows Phones on the map and Nokia had such success on the platform that Microsoft bought the Finnish company's devices division.
As a result, the new Lumia's that Microsoft is launching are powered by Microsoft's mobile operating system, Windows Phone 8.1. How cool is that, huh!
These Windows 8.1 smartphones are even more personal, with new features including Action Centre, which shows new activities and notifications at a glance; and Senses, a suite of features that takes the work out of managing data use, storage space and battery life. Windows Phone 8.1 also makes it easier for IT professionals to manage devices, and for professionals to connect to essential business apps and services.
These new elements integrate beautifully with Windows Phone signature features like Live Tiles, which have been improved to add the possibility of a third row of tiles, as well as transparency, giving even more personalization with unique backgrounds. Extensive on device search, a reworked calendar, improved People Hub with direct app integration and the new Word Flow keyboard make Windows Phone 8.1 an extensive update.
In simple terms, these Lumia Windows phones have been customized to the Ugandan market with locally adaptable applications!
Let's take all that in for a moment….as you relax, Microsoft is planning in the near future (or may be in a few months) to offer Windows 10 on all its devices. Apparently tests are ongoing. Did that sink in? Yes, Windows 10!
Last year, Microsoft launched the Lumia 530, locally available as a dual SIM 3G variant. A little bit about the phone; the Lumia 530 will expand the reach of Windows Phone, allowing more people to enjoy innovations and Microsoft services found in high-end Lumia smartphones. Some of the features of this phone, that the officials called 'the entry level' Windows phone include;
A powerful quad-core Qualcomm Snapdragon processor delivering a fast user experience for favourite apps, gaming and internet browsing on a 4-inch display. ARE YOU KIDDING ME? And you call this entry level?
The phone also has a seamless integration with Microsoft services such as Skype and Microsoft Office
Now listen to this, you social media crazy folks; the phone has Voice-guided selfies with the 5MP rear camera. NEED I SAY MORE?
There's the Lumia 630… it was the first Windows Phone 8.1 smartphone to hit the Ugandan market.
In the words of Kingori Gitahi, the Product Manager Microsoft Mobile Devices, "We hit a sweet spot with the Lumia 520, and together with our partners ended up with a real hit. With the Lumia 630, we have set a new standard for affordable smartphones. The device combines Windows Phone 8.1 with quad core processing and uncompromised cloud-connected experiences from Microsoft."
I believe he said it all.
With a vibrant design with changeable covers, the Lumia 630's quad-core Snapdragon processor provides a faster social experience on leading social apps like WhatsApp and WeChat. Benefiting from high-end Lumia apps such as Nokia Camera, maps and navigation from HERE the device brings people a premium experience at an excellent price. The Lumia 630 also boasts a 4.5-inch Clear Black screen, which makes games, apps and entertainment look fantastic.
At the high-end, there is the Lumia 930 which maintains a language of innovation while combining the very best of Microsoft and Lumia. A powerful 2.2GHz Snapdragon quad-core processor and 2GB of RAM ensure the Lumia 930 delivers superb performance.
With a 20MP Pure View camera, ZEISS optics and optical image stabilization, the Lumia 930 also comes with unparalleled HD video and four high-performance microphones that enhance the clarity of your subjects and block out unwanted noise.
Integrated Dolby Surround Sound also makes for a similarly rich audio experience when watching movies or listening to music. The five-inch, 1080p Full HD, Clear Black screen display provides a deeply detailed viewing experience and Nokia Rich Recording delivers a flawless video experience. LTE-ready and with a 2420 mAh battery, the Lumia 930 will efficiently keep going all day (and longer) while built-in wireless charging adds to the convenience.
All new Windows Phone 8.1 smartphones come with the strong suite of fully integrated Microsoft services including full mobile version of Office, with favourites like Word, PowerPoint, OneNote and OneDrive. Windows Phones are also the only smartphones with Xbox built-in, meaning your gaming experience travelling from phone, to PC, to Xbox.
Now, the choice is yours.