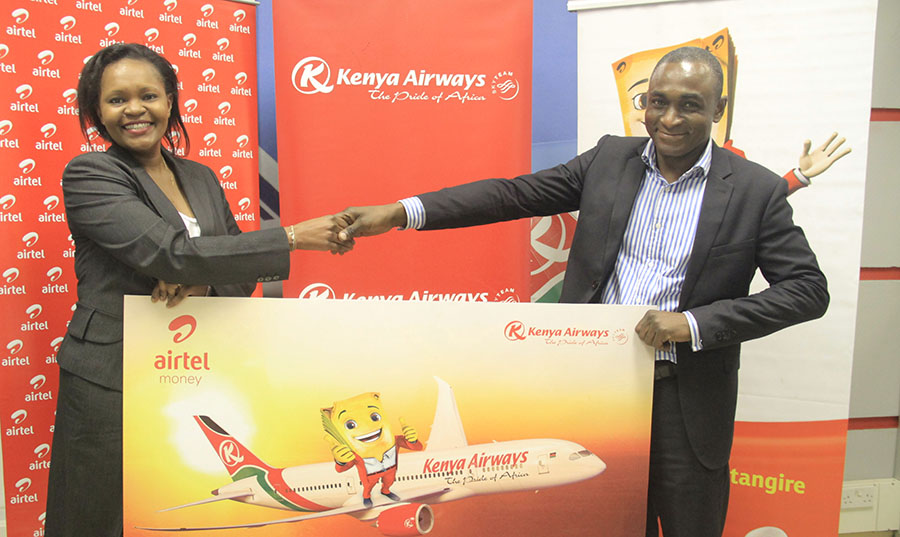 Kigali, Rwanda – In efforts to grow the scope of payment services offered on the Airtel money platform, Airtel Rwanda has introduced a payment option for Kenya Airways (KQ) tickets on Airtel money.
Airtel customers can now pay for their Kenya Airways (KQ) tickets by simply dialing *182#, access the Airtel menu and get started.
"This partnership and service brings convenience and ease for our customers to a whole new level as they will now be able to pay for their Kenya Airways (KQ)  tickets anytime, anywhere while using their mobile phone," said Airtel Rwanda Chief Financial Officer, Mr. Tano Oware during the launch of the service at the KQ offices at UTC.
Related Stories
[related-posts]
He added, "This offer additionally increases our array of payment options on our Airtel money platform thus catering for the needs of our customers and this is central to our business as we are a customer centric telecom."
Also commenting on the new development, Kenya Airways Rwanda Country Manager, Ms. Pauline Kariuki expressed gratitude of the new payment system, "We are excited to introduce yet another payment option to our customers. Convenience is key to our customers and payment of their tickets using Airtel Money is one of the ways. Airtel Rwanda has great coverage and reach across the country and therefore anyone registered on Airtel Money can access this service".
Airtel Money is a secure and convenient mobile commerce service that allows customers to transfer money between one mobile phone to the other, request for a loan (Igurize Amafaranga), top up mobile phone with airtime/data or another customer's mobile phone. It also allows customers to pay utility bills, as well as buy goods and services and withdraw cash at selected Automated Teller Machines (ATM)s.
According to the East Africa Community, mobile commerce is gaining importance in the region for its huge role in speeding up transactions – saving time and money for people and businesses.