News
Smartphones
Ubuntu Phone Sells Out in Minutes During The First Flash Sale!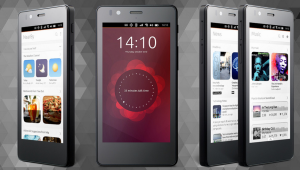 The Bq Ubuntu Phone which went on sale this morning direct in Europe sold out — twice.
There was a second offer after the first was affected by technical issues that prevented many buyers from getting past the registration screen to complete their purchase, while others were left stuck in 'processing'.
Customers successful in bagging a device in time took to social media to share their excitement and their confirmation e-mails which show an expected delivery date of March for both the phone and the official Duo case accessory that early bird buyers got for free.
The second batch of devices went on sale at 2pm GMT, and they sold out in under 10 minutes.
While the 'flash sale' approach frustrated some, it is clear that in copying a page from the Chinese mobile maker book of hype Canonical and Bq have managed to generate noise and demand for the first device.
In a statement released, Bq thanked buyers for their patience, explaining:
"We experienced a huge demand this morning, receiving over 12,000 orders per minute and unfortunately our servers went down as a result.

We only had a limited number of units for today's flash sale. More will be made available as further flash sales are held throughout the month. Please bear in mind that all orders placed for Ubuntu smartphones will not be delivered in any case until March. (sic)"
Bq plan to hold further flash sales throughout the coming weeks.
The flash sales may be the only opportunity most get to snag this device at this time as Bq say they have no plans to put the phone on "normal" sale afterwards.
Via: www.omgubuntu.co.uk