News Archive
Q&A With Lydia Byarugaba, Business Developer and Strategist at Everlytic
Meet Lydia Byarugaba, Business Developer and Strategist for Everlytic Africa. In her own words, Africa is the beautiful dark horse she can't help but be passionate about.
"Africa has the ability to constantly go through wars and turmoil yet raise her chin up high and fight back, blood, sweat and tears to show the world her wealth and pride," says Byarugaba.
Her passion for Africa lies not only in the great food, colourful culture and diverse music, but reaches farther into the realm of publishing and technology. With an Information Systems degree from Bond University and an Honours degree in Informatics from the University of Johannesburg, Byarugaba has successfully worked her way to becoming a tech-guru in Africa.
Her work experience ranges from being a sales person at Nashua Mobile to doing systems admin and report writing for Gender Links, a non-profit. Within two years of working at Everlytic, Byarugaba went from being an account manager to becoming the ambassador and pioneer for Africa at Everlytic.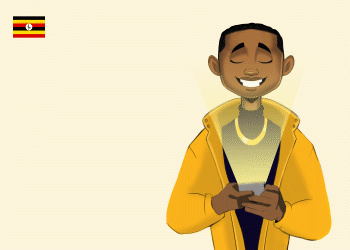 We sat down to ask Lydia a few questions about herself and the role technology is playing in Africa.
What is your role at Everlytic?
My role is to establish Everlytic as a leading software company and service provider in Africa. My job entails: marketing, PR and strategic partnering with leading businesses and prolific alliances. At the very least, my role is to create relationships with big corporations, government, parastatals and key organisations. 
Why Africa?
Well, for one, I'm African. I'm half Kenyan and Rwandese, I grew up in Kenya and have lived in South Africa for 16 years. I've been lucky enough to experience her ups and downs. Africa has a wonderful communal spirit, with some of the most patient and smart people in the world. Regardless of challenges, her drive reigns supreme. If you want to be the next billionaire, then you should be investing in Africa. 
What part of Africa are you currently focusing on?
My focus at the moment is on the East African region, more specifically Kenya. It's one of the major ICT hubs in Africa along with South Africa and Nigeria. Naturally, being partly Kenyan helps when understanding the people and the culture. There is no copy and paste in entering a new market, if you don't understand the people, you're in a tight spot. Kenyans are great to work with, their tenacity is far above what's expected, they don't rely on the government to help them, they do things for themselves. Kenyan entrepreneurs are contributing close to 60% to their economy.  Also, the digital market in Kenya is ripe, major strides have been made on social media and online advertisingplatforms but there is still a gap in e-marketing, which is opportune in my line of work.
From your experience, can you tell us what you see happening with regards to business and technology in Africa?
They're intertwined; they have to be, regardless of what industry you are in. Mobile tech is playing a huge role in Africa. In agriculture, young techies are building apps to aid farmers. Print publishing is starting to be seen as a dying trade, this is debatable, but that said, publishing industries have begun moving to digital platforms to cater for their digi-savvy audience and ultimately survive. In order to be sustainable in this digital age, African businesses have to invest in technology. 
How is technology changing the ways that Africa has previously been operating?
The 2008 elections in Kenya speak to this. Dispute on the election results led to the nation breaking into post-election violence. This violence resulted in the creation of a blog called, Ushahidi, (created to allow users to crowdsource crisis information and disseminate via multiple channels: SMS, email, etc.) which would equip people with an easy to use tool to share with the world on their current situation. Subsequent to that, the tool had been used by Aljazeera, the DRC and India. Heads of state, politicians and CEOs across the continent are embracing technology, Paul Kagame, president of Rwanda, is known for his fresh approach in governing, he's very active on twitter, and yes, tweets himself. Previously, accessibility to a man of his stature was a novel idea but technology has made engagement not only possible but transparent, real-time and if that's not enough, it adds a notch to his cred in the digital space. 
With regards to tech and digital marketing, the world has always shed a negative light on Africa, do you think this is currently justifiable, or would you tell the world to change their way of thinking?
I'd tell the world a few things! It's sad that Africa has always been painted with a brush of war and poverty. That being said, with regards to digital marketing, we're sitting at the table now. Social media marketing has allowed everything to be challenged. Africa has joined the game and is quickly becoming a lead player. There is room for improvement as there always is, we are teeming with fresh ideas and innovation but there are lessons to be learnt from the world on approach and methodology. Negative light sure, but we'll prove them wrong. 
Where do you see Africa with regards to digital marketing and tech in 10 years-time?
Dare I say, leading amongst emerging markets. Pan Africa alone has 47 states with notable investments in ICT being made. When we look at emerging markets as a whole, in 10 years-time, if well executed, we'll be at the top of the list. 
What has been your most successful venture in Africa?
iHub has played a catalyst role in helping establish us as a worthy software player in the game, especially amongst tech enthusiasts and those who seek to start using innovative tools. Recently landing Samsung Kenya and Chase Bank has further helped cement our credibility in Kenya and doors into the corporate and government sphere are now easier to get open.
Work aside, what do you do for fun?
I cook, read and travel. I usually read 2 to 3 books at a time across different genres; I get bored too easily with just one. I love live shows, music & theatre, discovering hole-in- the-wall lunch spots and dinners with close friends and family. Basically throw in good food, A-grade wine, the right music, great people and I'm there.