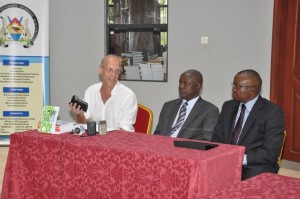 MUBS library yesterday received 50,000 electronic books from Prof. Geert Lovink from the University of Amsterdam. Prof. Lovink sent four Dutch students to MUBS about 3yrs back who under took a research in ICT in Uganda.
A book has been produced from that research. The Professor has been looking forward to coming to Uganda to continue doing some research on mobile money phenomenon. Prof. Lovink is a researcher in performance of you tube, Wikipedia and other latest areas on the role of ICT.
Welcoming him to MUBS, Prof. Balunywa thanked him for choosing to work with Uganda and told him there would be challenges that would be different from those of the developed countries. With 80% of the people in rural areas and without electricity, adoption of modern technologies will be difficult.
Prof, Lovink admired the MUBS library and said that while there was a fear that libraries may disappear, this fear was unfounded and libraries are taking new roles and continued to be resilient. The MUBS community welcomed the 50,000 books as this will change the economic face of the library. The meeting was attended by the Deputy Principal and other members of Management