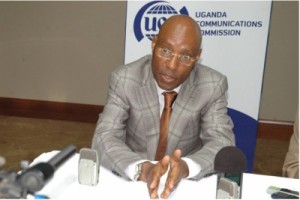 Communications regulator, Uganda Communications Commission (UCC) last week launched a new telecommunication company, Suretelcom at Kibuli.
Executive director Godfrey Mutabazi said UCC is in the process of devising new service terms to improve telecommunication service delivery in the country.
Suretel Uganda Ltd conducted its first Ugandan GSM call last Friday.
In July 2007, Minister  of Information  Communication Technology  and the UCC  granted Suretelcom  a  license   as  a public infrastructure  provider  and public  service provider
Suretelcom is a subsidiary of Time turns Holding Ltd an international telecommunication company. Timeturns operates in Nepal -Spice Nepal Pvt Ltd, Cambodia -Latelz Co Ltd, Burundi -Lacell Su, Sierra Leone -Intergroup Telecom Ltd, Tanzania -Benson Informatics Ltd, Congo DRC -Yozma Timeturns Spr and Uganda -Suretelcom Uganda Ltd.
According to the Timeturns, Uganda is one of the fastest growing markets in Africa with a projected in increase subscriber base by about 20.1 million people in 2009-2014 (the annual growth of 22%)
It also adds that the market is highly segmented as eight operators share the subscriber base. MTN, Zain, Uganda Telecom and Warid share the market currently. Small operators are projected to capture about 13% of subscribers by 2014.