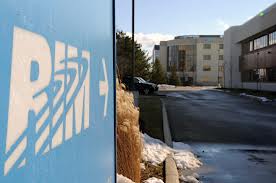 In a bid to protect its market share in developing countries, makers of Blackberry smartphones and PlayBook tablets, Research In Motion (RIM), has opened its second apps lab in Cape Town, South Africa to enable local application development for the BlackBerry platform.
The BlackBerry apps labs forms part of RIM's extensive developer programme that spans Africa and includes facilities in key innovation hubs in Nigeria, Kenya, and Egypt. RIM had formerly launched a BlackBerry apps lab (BlackBerry Authorised Academic Centre) at the University of Pretoria (UP) May this year.
The labs provide local developers, including students, start-ups, entrepreneurs and others, with access to resources in development, marketing, sales and training to help them expand their ideas and business opportunities.
Alexandra Zagury, managing director for South Africa and Southern Africa at RIM said: "Cape Town is a key innovation hub, and a natural site for RIM's second BlackBerry apps lab in South Africa. We are now looking forward to fostering mobile innovation in the Western Cape and helping to grow South Africa's next wave of mobile app developers."
"Our investment in this lab is a signal of our commitment to supporting South Africa's thriving BlackBerry developer ecosystem," he added.
According to Blessing Mahlalela, a student at UP and a developer, the BlackBerry apps lab is every developer's dream. "RIM has eliminated the cost that my startup company would have incurred by providing resources such as the latest BlackBerry devices for testing and high performance development machines," said Mahlalela.
Fellow UP student, Leon van Dyk added, "My programming abilities for the BlackBerry platform have increased monumentally – and so has my interests in mobile development as a career choice."
BlackBerry Smartphones controls more than half the market of all smartphones as  a result of its unlimited BlackBerry Internet Service.  RIM plans to work with developers at the Cape Town lab to create local and regionally relevant applications for the firm's smartphones and PlayBook tablets, as well as for devices running the upcoming BlackBerry 10 operating system.
The brand has been losing out to Apple and Android-powered smartphones in the US and Europe, but the company is hoping to arrest some of the losses with the launch of BlackBerry 10, expected early in 2013.
Some local experts have indicated that BlackBerry has a long term future in SA, but would like to see company decisions that bet on the future of the firm, rather than the short term gains for shareholders.
"Sure they want to protect their market, but that's great for us because the guy who's second everybody says is nearly dead – those are the people you want to work with because they fight harder," Jenny McKinnell, executive director of the non-profit Cape IT Initiative told News24 of the BlackBerry apps lab.
"Too many bad business decisions get made because companies are trying to make a decision so the shareholders get their money and they're not acting in the best interests of their business, so I do not write BlackBerry off at all because I know that [RIM board member] Roger Martin thinks long term, and while it might look like BlackBerry is struggling now, I say let's see in 10 years' time where they actually are," said McKinnell.
RIM has been working with 118 universities, colleges and schools across Africa through the BlackBerry Academic Program to provide institutions with course materials and content to teach and educate students on mobile application development.
Source: Venture Africa.