News
'Talking cars' tested in Michigan to cut road accidents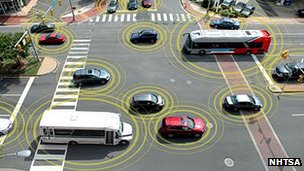 It says that the data gathered could ultimately lead to a change in the law requiring such safety equipment.
"This cutting-edge technology offers real promise for improving both the safety and efficiency of our roads," said Transportation Secretary Ray LaHood. "That is a winning combination for drivers across America."
The government suggests 80% of the number of accidents that did not involve drugs, alcohol or some such "driver impairment" could ultimately be prevented if the technology works.
Ford, General Motors, Honda, Hyundai, Mercedes-Benz, Nissan, Toyota and Volkswagen have all provided vehicles to be used. The project has a $25m (£15.8m) budget.
Driver alert
Nearly 500 trucks and buses are already equipped with the communication devices which rely on technology similar to wi-fi. By the start of October that number is set to rise to about 2,800.
The kit will let vehicles send data to each other and selected parts of the city's infrastructure.
Drivers will be warned if:
There is a risk they could crash into another vehicle at crossings where their view is restricted.
If another vehicle is changing lanes in their blind spot.
If there is a danger of a rear-end collision because the car in front of them has braked suddenly.
"[It] has the potential to be the ultimate game-changer in roadway safety," said National Highway Traffic Safety Administration's David Strickland.
"But we need to understand how to apply the technology in an effective way in the real world."
Alternatives to the technologies involved in the project are already on the market.
For example Bosch offers an ultrasonic sensor which registers objects three metres to a car's side which the drive may not be able to see. Nissan has also introduced a car-mounted radar which monitors the road ahead and applies the brakes if it thinks a collision is imminent.
The US government is attempting to create a superior system which does not rely on kit being able to "see" a problem – but one expert warned that the innovation's success would be limited until every vehicle was required to have the necessary gear.
"This is a classic case of standards needing to be applied," Prof David Bailey, an automotive expert at Coventry Business School, told the BBC.
"There is evidence that consumers are willing to pay for this kind of safety equipment, but to move the market on you might need some kind of regulatory change.
"So the amount of time it will take before we see it become widespread will depend on both whether the technology is viable and how quickly governments are likely to demand that vehicles implement it. If they don't push hard it could still be 30 to 40 years away."
In Europe Volvo is working on an alternative wireless technology in which cars "follow" a lead vehicle, mimicking its actions and forming a convoy.
The technology is designed to be used on motorways allowing the driver to hand over control and relax during part of the journey.
Source: BBC