News
Sony Unveils Refreshed 6-Inch Reader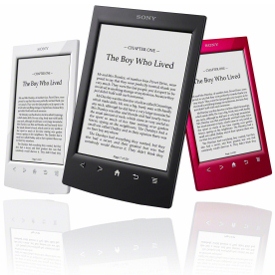 The improved default book layout is also intended to make it easier for users to organize and find books. There's also two English-language dictionaries, to search for hard-to-understand words.
Built-in Wi-Fi provides access to e-books via the Reader Store and public library system, which lets users with a valid library card borrow free e-books wirelessly from more than 15,000 public libraries around the country.
The Reader store is available on the Web via Internet Explorer, Safari, Chrome, and Firefox.While the wireless is turned off, the Reader's battery can sustain itself for up to two months, carrying 2GB of storage.
Sony's device is also getting the social treatment. The addition of Facebook and Evernote apps lets users post an e-book passage onto Facebook directly from the Reader.
The Reader PRS-T2 is now available for order for "about $129" at Sony stores, online, and at other retailers nationwide.As an added incentive, Sony teamed up with the online world of Pottermore to offer a free voucher good for the first e-book in the Harry Potter book series. The Pottermore Shop is the exclusive home of the Harry Potter e-books.
Source: PC MAG