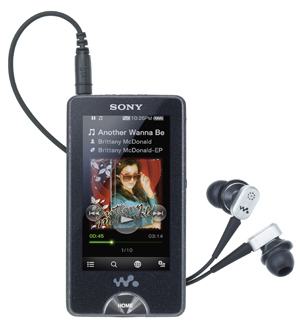 The OLED touchscreen itself carries on the theme of quality: it feels practically as responsive as the screens on Apple's products, is pretty sharp and bright and, with a height of three inches and resolution of 432 x 240, large enough to display album covers, videos and pictures, as well as the web thanks to the in-built WLAN and browser.
A direct link to YouTube is also provided, as is an area for managing podcasts, and the touchscreen is accompanied by hardware controls for music on top and a 'Home' button at the bottom.
Sound quality seemed up to muster, too, with plenty of rich bass complimenting snappy, accurate treble. Sony is talking up its noise-cancelling technology – it's claiming that the X-series if the world's first mp3 and video player with digital noise cancellation – but our first impressions suggest that the cancellation is subtle rather than intrusive.
The player has three noise cancellation modes – for trains, planes and offices – so we'll test those more thoroughly when we get our hands on the X-series for review.
The new Sony X-series is available in any colour as long as it's black and, while not having the thousands of applications of the iPod Touch, is looking like it could be a rival: excellent sound quality, a vivid and responsive touchscreen and a decent range of features should appeal to those who value the sound of their music over Apple's legendary design. Prices rival Apple's, too: £209 inc VAT for the 16GB model and £279 for double that capacity.
Source: PC PRO