Rwanda
Mobile Banking Kicks Off in Rwanda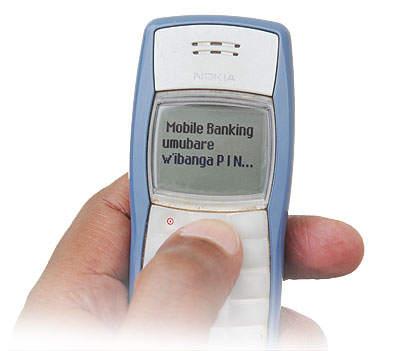 This is in sharp contrast to two years ago, when banks in Kigali limited mobile banking to basic transactions such as checking the account balance and getting financial statements.
"We are about to launch our mobile payment platform, which will enable our clients to pay for purchases at selected merchants using their mobile phones," said Lawson Naibo, chief operating officer of Bank of Kigali.
The bank currently has about 60,000 customers utilising the mobile banking platform, with close to a million transactions registered on a daily basis.
Bank of Kigali also plans to launch a new product dubbed "mobile wallet," which can be linked to a current account to allow users to store cash and make transactions using their mobile phones.
According to a recent report by the International Monetary Fund, mobile banking is emerging as a viable approach to increasing financial inclusion as currently only 14 per cent of Rwandans have access to formal banking products.
The five main commercial banks- Bank of Kigali, Kenya Commercial Bank Rwanda, Ecobank Rwanda, Commercial Bank of Rwanda and Banque du Populaire- are now offering mobile banking. Banque du Populaire currently has about 140,000 users.
The main advantage of the mobile phone lies in its capability to reach everywhere. It transforms the economics of service delivery by reducing the cost of financial transactions and of setting up branches.
Mobile penetration in Rwanda is currently estimated at 41.8 per cent as of December 2011, the second lowest in the East African Community after Burundi. However, the government is looking to increase mobile penetration to 60 per cent by the end of the year.
On average, mobile banking transactions attract a minimum fee of Rwf100 ($0.16) for a checking balance and a maximum of Rwf300 ($0.50) for a money transfer.
Mobile banking is also seen as a good way to promote the culture of saving to the millions of rural Rwandans who have a mobile phone but no bank account.
However, bankers say the uptake of mobile banking is still low because of limited understanding of the product, coupled with high levels of financial illiteracy. Another factor is the current structure of the Rwandan economy, which is predominately cash-based.
"Uptake of mobile banking still remains low because the economy is still cash-based and not many people accept electronic payments," said Maurice Toroitich, managing director of KCB Bank Rwanda Ltd.
–
Source: The East African