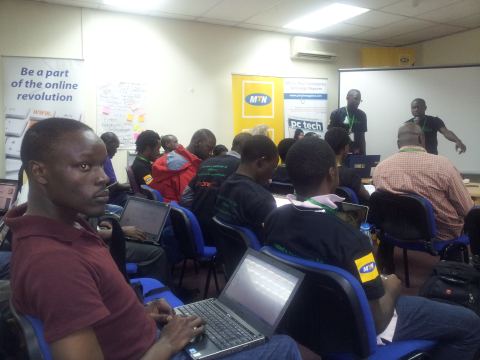 1. Databud
An interface to access, download, analyse and share data sets within Uganda. Free the data from existing formats, PDF/Excel/HTML/Paper, provide sharing on social networks, set it free to be accessed 24 x7 from anywhere in the world, from any device PC/Tablet/Smart phone.
Additional value added services come from licensing the technology and providing analyses to link data sets.
The judges had a few questions about the sources and clients the team of Databud have so far contacted. Anyway, we're on with our second presenter.
2. 30 Million Voices
Bringing Ugandan Parliament closer to the people. The platform allows people using SMS, twitter and facebook to participate in discussions on the floor of Paliament. Citizens will express themselves openly through comments, blogs and voting on proposed bills before the actual voting. The purpose is to influence policy making process so that public opinion is included in policies from time to time.
18:30hours: Asked about how they intend to handle security issue, presenter says they'll "have civil society organizations on our side."
Meanwhile, Dr. Ham Mulira has just arrived. Next up: Roho Foundation.
3. Roho Foundation
Roho Foundation provides rankings of NGO's and charity organisations, basing on how they spend money from donors. This will help donors to evaluate how their funds have been used and also improve performance of these organisations.
1833hours: Judges now asking their questions. Actually, there was only one question. But I missed that.
4. Skylink
A platform to share and discover location based information anonymously.
1839hrs: This app generally takes on Google Maps head-on. Currently, Google Maps only allows registered users to submit locations. But this allows everyone to be able to submit information, and provides a link to share on various media – including Facebook of course.
1842hrs: App allows someone to be able to see whatever is tagged around their location based on which direction they are facing. They call it "augmented reality". Nice one – not sure about the spelling.
1849hrs: Several questions about validating data when submitting info via Skylink #SWKla – app is intended for sharing anonymously – Deborah Elzie on Twitter
5. Saving Mothers
Saving Mothers (savingmom.org) is an SMS reminder service to pregnant mothers to go for check ups, vaccinations and immunizations of their newly born child. It is aimed at reducing maternal and Infant mortality by reminding mothers to access medical attention as and when recommended by the doctor.
1852hours: Questions about the privacy of health data, especially if it'll be submitted to researchers. Team say they'll only share "general data".
6. Almo Movers and Deliveries
Geared towards direct delivery of clients' products at desired destination in the country, through reducing costs and minimizing risk of loss or product damage.
7. @Deliveries
A mobile web application that bridges the gap between the investor/business providers to customers or people in need.
1909hrs: Presenter says they are NOT creating a jobs portal. He was responding to a question by Judge Elijah Kitaka.
1911hrs: By the way, this presenter made is causing a lot of laughter in the crowd really. Among other reasons, because of his accent. Jugdes meanwhile seem really unimpressed. Elijah asks for a quick validation of presenters assumptions.
8. Sharehub
ShareHub is a web application that lets you earn money by sharing files, applications and documents online with ease.
1916hrs: I would think it's similar to Box.com, Google Docs, Dropbox, among others.
9. MyZiki
1919hrs: Presentation by MafutaGo's Christine Ampeire. "Think of it as iTunes meets Uganda, meets Mobile Money, and meets local talent".
MyZiki seeks to ease discovering, purchasing, sharing and enjoying local music in new a digital, innovative and personalized ways.
10. Bet OTM
Providing an avenue over which any eligible person can logically increase and invest their funds responsibly with ease i.e. in the comfort of their homes, in transit or even on leave or safari.
This app helps users participate in online betting using their Mobile Money accounts. BET OTM, actually means Bet On The Move.
11. 2Chakale
The app helps you find the places you can hangout based on your social friends who intend to go or who are already at those places.
12. Mambu Mobile Credit Union
Mambo mobile credit union is a mobile based micro fiance institution in east Africa. to offer products ranging from mobile loans to mobile savings on MTN, AIRTEL, WARID AND UGANDA TELECOM (UTL) NETWORKS.
13. Sonda
Sonda is both a mobile and web based application that enables one get carryout a fundraising for different events and activities based on their Social networks.
1953hrs: Apparently, Sonda will be the app all of us will use to plan our weddings from now on. Sonda is Luganda for "fundraise".
2028hours: Meanwhile still waiting for the judges to return and announce the winners.
---
THE WINNERS:
3rd Place: Sonda
2nd Place: MyZiki
Winner: BetOTM
2117hrs: A bit of a surprise from judges the at who the winner is, but congratulations everyone. Ciao.