News Archive
Makerere University tries out its electric car today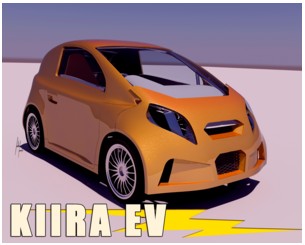 The team leader, Mr Paul Musasizi, told Daily monitor that the car is a clear demonstration of existence of innovation and skill at the university. "When we started the project, we wanted to demonstrate that Uganda has as good talent as that in the US or Germany and now that this is over, we expect and want it to be taken up," Mr Musasizi said.
Waiting on production
The vehicle is a two-seater with a theoretical speed of 200km/hr and 150km/hr practically because of its light weight. It can be charged after running 80km.
"We named it Kiira EV because we are fascinated about green energy and the first electricity generation in Uganda was at Kiira," Mr Musasizi said of its naming. It remains to be seen if the success of this vehicle can be translated into actual production.
Mr Musasizi said in an interview that the innovation demonstrates the faculty's commitment to green transportation and that work has already started on a 28-seater public electric transport vehicle.
The vehicle is designed to replace the current diesel and petrol engine cars. Similar innovations have been made by car makers in Japan, German, France and the US.
Inspiration
Although some components of the car like the steering wheel and other minor accessories were imported from manufacturers outside Uganda, most parts of the car including the core body and combustion system were designed and built locally with the assistance of local craftsmen in places such as Katwe, an innovation suburb in Kampala.
The Kiira project is a run-up to Vision 200, a car made by the Massachusetts Institute of Technology, which attracted the participation of Makerere University students in 2008. Inspired by the first project, the students and university decided to launch their project in 2009.
It is one of the three science and technology projects at the faculty that were allocated Shs4.5 billion this financial year. The other projects include; the Laboratory Infrastructure and Industrial Training.
The vehicle will be publicly tested at the faculty tomorrow and officially launched by the President later in the month.