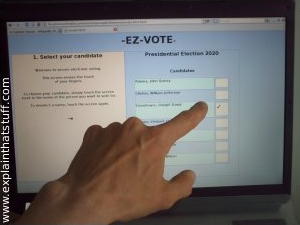 On Tuesday, Mr Gration advocated for the electronic voter registration arguing that it was the only way to improve the confidence of Kenyans in elections.
"Let the government put in place electronic system of voting ahead of the General Election in the country for transparent results to be seen in the electoral process," the ambassador said.
He was speaking at Japara a building in Eldoret during a media round table organised by Internews-Kenya.
The envoy was accompanied by Interim Independent Electoral Commission (IIEC) North Rift regional coordinator Bilhah Kiptugen and ACK Eldoret Diocese cleric Martin Arap Rirei.
Ms Kiptugen said the electoral commission would register voters electronically but the voting would be done manually.
Mr Gration also asked the government to quickly resolve the controversy on next year's election date to avoid anxiety among Kenyans, local and international investors.
"It is prudent for the government to resolve the issue of elections date before the next General Election to avoid speculation and animosity if stability is to prevail in the country," added Mr Gration.
He said the Constitution had spelt out the date as second Tuesday of August and there was no need for speculation.