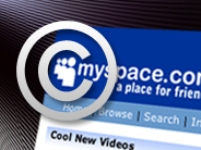 "MySpace did make layoffs yesterday; however, there are no plans for additional layoffs at this time," a PR rep for the new owner told CNET via e-mail, declining to comment on specific layoff numbers. "Specific Media will take another look after 60 days and invest in the areas that are under-resourced."
The once-proud social-networking site reaches some 70 million consumers worldwide but has continued to lose market share to Facebook in recent years. A design overhaul it underwent positioned it as a pop culture site targeting younger users.
In a memo sent to employees yesterday, according to AllThingsD, MySpace CEO Mike Jones announced he will depart the company after a two-month transition period.
"My time here at MySpace represents the most engaging and challenging time of my professional career," Jones wrote. "I have found our team to be comprised of the best people I have come across in our industry."
The $35 million deal in cash and stock for the music site is a far cry from $580 million that News Corp. paid for MySpace in 2005. News Corp. will take a minority equity stake in the digital media firm as part of the deal.
Specific Media CEO Tim Vanderhook wants to build a "digital media company on par with Yahoo, AOL, Facebook, and all the other big names out there," according to the WSJ.
Vanderhook is hoping investor Justin Timberlake will help reinvent the brand and turn its fortunes around.
"As part of the deal, Emmy and Grammy winning artist Justin Timberlake will also take an ownership stake and play a major role in developing the creative direction and strategy for the company moving forward," Specific Media said in a release. "Specific Media and Timberlake plan to unveil their vision for the site in an exclusive press conference later this summer."
Source: news.cnet.com