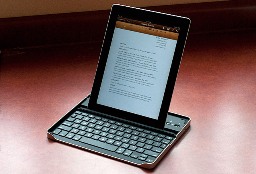 In its first iteration, this case was made for the original iPad by a company called ZAGG. Then, it was called the ZAGGmate, and now that it's been quickly modified for the iPad 2 with help from Logitech, the two companies have co-branded this sturdy keyboard/case.
After a quick pairing-up routine, our iPad 2 and the Logitech Keyboard Case became good friends. The result is excellent. The keyboard is not quite full-size, and its keys feel like those of a small laptop, but after a short period of getting used to its rather cramped confines, I was able to type with reasonable speed.
There's a slot at the top of the keyboard where you . The iPhone 4 also pairs up quickly with this keyboard case, and fits perfectly in that same slot, adding to the case's overall versatility.
The keyboard came to us already charged, and our testing didn't require further attention from its included USB charging cable. Logitech says the unit will last several weeks without charging.
Look at the gallery below and you'll see how well the iPad 2 fits in this ultra-thin case, with the resulting
assembly barely larger than the iPad 2 by itself — a mere 1/8 inch is added to its overall thickness when placed in the case. We were especially impressed with the way the iPad snaps into the case, and when it's removed, the tablet awakes from sleep mode automatically.
Although you'll pay dearly for this shiny aluminum case, the keyboard inside works well. And though we'd like to have better protection for the back of the tablet, it adequately protects your iPad 2. Its build quality justifies the $100 price tag, protecting your iPad while adding convenience with a keyboard that'll let you get your work done a whole lot faster