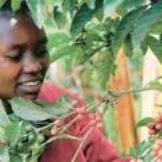 In recent years, Uganda has become a major player in the production of Robusta coffee after a crisis in the Ivory Coast saw the production in the former leading African coffee producer reduce drastically. In terms of cumulative production, Uganda is the continent's second biggest coffee grower after Ethiopia.
However, a coffee farmer hailing from Rukugiri, Mr Morrison Rwakakamba says that if farmers' associations as well as the government embarked on sensitizing the farmers about the use of Information Technology such as SMS conveying messages about the danger of pests and diseases affecting this crop, its management and agro processing, such shortfalls would be adequately addressed.
He said in 2009 an IT development partner from Bangladesh-Grameen Foundation in conjunction with Google, launched a digital extension programme called AppLabs software with MTN Uganda for purposes of availing data using Google SMS search to farmers growing all types of crops in the country.
The idea was to have Community Knowledge Workers (CKW's) working with farmers' organizations such as the National Research Organization (Naro), Uganda National Farmers Federation and the Ministry of Agriculture among others.
The CKW's together with all the stakeholders were sensitized to put in place a database for farmer related challenges. For instance if one's banana plantation dries up, the affected farmer would be required to send this message to MTN and the CKW would then advise the farmer accordingly.
However the challenge is that only 14 per cent of farmers in this country are able to access services of the CKW but it was then up to the government and the concerned stakeholders to take this initiative up by involving more CKW's.
According to Mr Rwakakamba the government and the concerned farmer's organizations seem not to be taking up this initiative and it seems to have stalled.
"The problem of realizing a decline in coffee production and other crops is not lack of market for the products but the problem is looking for ways of increasing production. This is because last year our coffee exports fell by 31 per cent, as a result of farmers continuing to maintain coffee trees that have lasted above 40 years thereby lessening productivity. There are other challenges like the coffee wilt disease affecting the crop, unprecedented dry spells that are brought about by global warming and climate change and lack of fertilizers like urea in our soils that is affecting the production of most crops. There is therefore the need to sensitize farmers on how to control these problems including the use of IT," Mr Rwakakamba said.
He said coffee prices worldwide are increasing as a result of fair trade and there is increasing demand for the product because comparing Uganda with Ethiopia, the former produces 1 ton of coffee per acre compared to 4 tons by the latter.
The global value of Uganda's Robusta coffee is rated at Shs4, 500 compared to Shs2, 800 last year which to Mr Rwakakamba is a good value that could earn better revenue to the country.
The Executive Director for Science Foundation for Livelihoods and development, Mr Arthur Makara at a recent consultative meeting of science journalists organized by International Women Media Foundation (IWMF) in Kampala, said when we are talking about agriculture and farmers, we should not forget about the use of recent technological innovations that are used to boost the sector.
He said since factors which cause food pricing and insecurity include things like increase in fuel prices leading to increased cost of transport, there is need to sensitize the farmers to produce quality products and this is possible by educating them through the use of IT on how to fight pests and diseases that affect the crops.
He called upon the government and concerned stakeholders to address the issue of road net work including lack of rail transport that could be used cheaply to transport farm products from the rural areas to markets in the urban areas.
"We have minerals in this country that can be used to fertilize our farm products but we usually end up importing fertilizers as a result of failing to utilize the technology available within the country," Makara said.
Stastics from Uganda Coffee Development Authority indicate that in the month of April, the overall total budget of coffee would be 184,000 bags a reduction in production mainly caused by rain, which affects the maturity of the coffee beans therefore harvesting and drying is impaired.
Last year, exports from Uganda totaled 205,725 bags in the month of April, equavalent to around $19 million.
allafrica.com