News Archive
HP Moves to Help Consumers Identify Counterfeit Printing Supplies in Uganda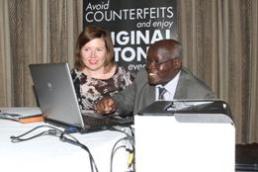 When the cartridge is not a genuine HP cartridge, the new technology will present users with additional information to address potential counterfeiting.  If a user receives a notification when they believe they have purchased an Original HP cartridge they will be directed to HP's Anti-counterfeit website to report the potential counterfeit cartridge.
"We want to ensure that our customers are able to identify counterfeit toner cartridges, since they are less reliable, less safe and produce poorer results in general," said Tina Rose, Anti- Counterfeit Programme Manager, Europe, Middle East Africa (EMEA).
The new product is available to customers all over Africa who can download the HP Toner Cartridge Authentication Software and apply it on any HP LaserJet printer that supports the digital authentication.
Some of the HP printers compatible with the toner authentication  software include:
•             HP Color LaserJet Pro CP5225 Series
•             HP LaserJet Pro M1530 MFP Series
•             HP LaserJet Pro P1100 Series
•             HP LaserJet Pro P1560 Series
•             HP LaserJet Pro P1600 Series
To see a full list of products go to: www.hp.com/go/learnaboutsupplies
Through its Anti-counterfeiting Program, HP actively educates its customers and partners to be vigilant against fake printing supplies. Over the last four years, HP has assisted in the seizure of nearly nine million pieces of fake printing supplies products and components in Europe, the Middle East and Africa. Globally HP has conducted nearly 5,000 investigations in almost 90 countries over the last four years, resulting in the seizure of more than 30 million units of counterfeit cartridges and components over this same time period.