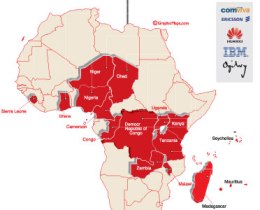 In the last six months, firms such as Airtel, Comviva, Samsung, IBM and Google have moved to strengthen their regional headquarters as they gear up for a push into the continent.
"Over 30 per cent of our revenue now comes from the African continent. We are in the process of expanding our pan-Africa operations significantly and as part of this further expansion will create 200 jobs across the region," said Manoranjan Mohapatra, CEO, Comviva.
A growing number of multinational companies has selected Nairobi as their centre of operations in the continent as multinationals seek physical presence and local intelligence in markets where they previously relied on representatives.
Research house IDC says the main driver for this impetus is the continent's Sh527 billion IT market, which is creating new competitive fields for international firms who are keen to gain a piece of the emerging opportunities within the region as they seek new grounds for growth.
IDC says that it expects regional IT spending to rise by 10 per cent this year, mainly driven by increasing trust and confidence in the public sector, where the revamping of "outmoded regulatory regimes" will spur investments in e-government.
"Information and Communication Technology (ICT) will be increasingly recognised as a key driver of economic growth and productivity across the Middle East and Africa," said Mukesh Chulani, senior research analyst at IDC.
Mr Chulani said regional governments see ICTs as a means of supporting innovation through more efficient utilisation of capital and labour.
In particular, one major deal has been pivotal in attracting the interest of several firms in the sector. Last year, when Indian mobile firm Bharti Airtel bought the 16 African operations of Zain Africa, its lean operational model created new opportunities for companies who are keen to capture a share of its outsourced operations.
So far, the deal has spurred five companies — Comviva, IBM, Ogilvy, Ericsson and Huawei — to realign their operations in order to handle demand of the contract.
Comviva recently won a landmark deal with Airtel Africa to provide end-to-end management of the mobile firm's VAS services. As part of the five-year deal, Comviva will manage all VAS nodes across Airtel's 16 operations in Africa. Earlier this year, Comviva partnered with leading content aggregators to further strengthen its content portfolio offering in the region.
Last November, American technology firm IBM won the opportunity to handle Airtel's IT systems.
"Africa is in a period of transition. Banks, telecommunications firms, and governments are all investing heavily in solutions and our role as an enabler becomes even more critical during this period. It is now essential for us to be in these markets physically," said Tony Mwai, general manager of IBM Kenya.
www.businessdailyafrica.com