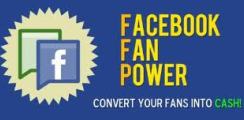 With nearly 700m users, Facebook is a behemoth – businesses shouldn't ignore the potential value of tapping into such a large userbase. So how much, exactly, is a Facebook fan worth?
Well, Hitwise has leveraged its data sets and shown that 1 Facebook fan is apparently equal to 20 additional visits to a retailer's website over the course of a year. So, if you have 1,000 Facebook fans, that means an extra 20,000 visits to your site. According to Hitwise:
"The figure of 1 fan = 20 extra visits to a website uses a unique methodology that combines Hitwise data with data from social media experts Techlightenment. We took the top 100 retailers ranked in the Hitwise Shopping and Classifieds category and benchmarked visits to those websites against the number of fans those brands had on their Facebook page. We then also looked at the propensity for people to search for those retail brands after a visit to Facebook using our Search Sequence tool."
This new ROI figure has been released in support of Hitwise's new 'Facebook Fan Acquisition and Analysis' service. And the figure could well be right, but translating the overall ROI of Facebook into monetary terms is still not easy.
And some would argue that it's not really all that necessary to establish a direct ROI, with the actual value being the openness and transparency afforded to customers across social networks.