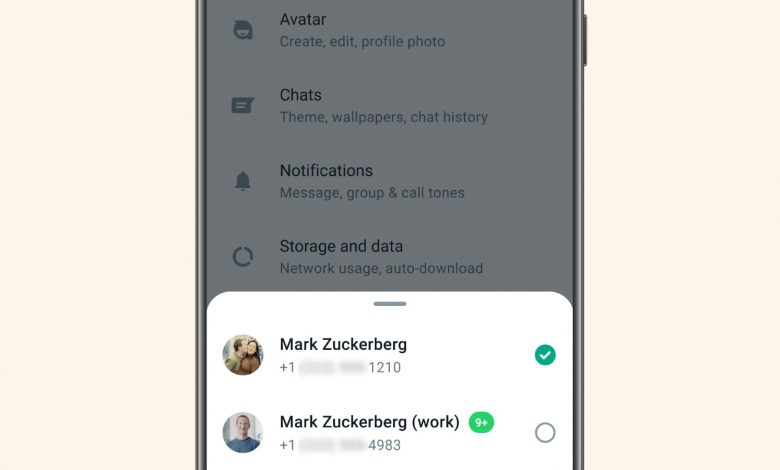 WhatsApp, a name synonymous with instant messaging, has once again catapulted itself into the limelight with a recent feature update. In a digital era where balancing between personal and professional realms has become a juggling act, the need for solutions that streamline this process is palpable.
The latest from the Meta-owned is its [WhatsApp] newly introduced feature that allows users to log in to two different accounts on the same device. This groundbreaking change is set to alleviate the hassles many face, particularly when it comes to toggling between personal and professional accounts.
No longer does one need to log out and log back in or carry two devices; WhatsApp has simplified the process.
To set up a second account, users will require a second phone number and SIM card. Devices that support multi-SIM or eSIM can easily adapt to this feature.
Once the prerequisites are met, users can head to their WhatsApp settings, click on the arrow next to their name, and click "Add account." Each account will have its privacy and notification settings, ensuring a tailored experience for the user.
The feature is currently undergoing testing in the WhatsApp beta for Android, with the firmware version 2.23.17.8, and is expected to roll out on the stable version soon​​.
The process of setting up a second account is fairly straightforward; however, it requires a phone with dual-SIM support, either through dual physical SIMs, eSIMs, or a combination of the two​.
For the initial setup, users will need the second phone or its SIM card to receive a one-time passcode via SMS for verification. Post verification, the app will continue to function for both accounts without needing a second device or SIM​​.
Why WhatsApp is introducing this
The rationale behind this feature rollout is rooted in the modern-day necessity of managing multiple facets of one's life seamlessly.
In a professional landscape that's ever-evolving, the ability to switch between work and personal accounts with a tap is a significant time-saver and stress-reducer. This feature also comes as a part of WhatsApp's broader vision of enhancing user experience and staying ahead in the competitive messaging app market.
Mark Zuckerberg, the founder, and CEO of Meta Platforms, heralded this new feature, emphasizing the ease it brings to users in managing their WhatsApp accounts.
The announcement elucidates Meta's ongoing efforts to refine and expand WhatsApp's capabilities, aligning with the digital communication demands of today's users​​.
WhatsApp's move to enable dual account functionality is a timely response to the evolving needs of its vast user base. As the lines between personal and professional communication continue to blur, features like these are not just conveniences but necessities.