Apple
News
Smartphones
Wearables
Wonderlust: iPhone 15s, Watch Series 9 & Watch Ultra 2 Launched — Specs, Colors & Availability
From the wonderlust event, the world's most popular watch just got better, iPhone 15 models finally have USB-C ports, and the Pros saw the biggest upgrades.
In a much-anticipated event that sent ripples of excitement throughout the tech world, Apple unveiled its latest flagship smartphone, the iPhone 15 series, on September 12, 2023. The Cupertino giant along with the iPhone unveiled the Apple Watch Series 9 and the Watch Ultra 2 smartwatch, and the latest version of their mobile operating system, iOS 17.
All iPhone 15 models have USB-C ports, finally! USB-C was mandated by the EU (although Apple won't admit that's why it's switching). The Pros saw the biggest upgrades including the cameras and the A17 Pro chipset. The Pros also ditched the heavy stainless steel for a stronger, more durable, and lighter titanium alloy with a brushed finish in four colors — Black, White, Blue, and natural Titanium.
iPhone 15 and 15 Plus Specs
The iPhone 15 and iPhone 15 Plus have screens with up to 2,000-nit peak outdoor brightness (twice as high as the previous generation, Apple says), a textured matte finish, a contoured edge on the aluminum frame, "all-day battery life", and five new colors. The devices are powered by last year's A16 Bionic chipset, as Apple is continuing to artificially differentiate between its Pro and non-Pro models as much as it can.
The main camera has a 48 MP sensor this time around, although it's smaller than what the iPhone 15 Pros have and even more than the one inside the iPhone 14 Pro models from last year. Nevertheless, Apple says it can shoot "optical-quality" 2x telephoto shot, in lieu of an actual telephoto snapper – since that is still limited to the Pro line. Interestingly, the default resolution is 24 MP, for "incredible image quality at a practical file size".
This camera system lets you take "next-generation portraits" with "sharper detail, more vivid colors, and improved low-light performance". And you don't have to switch to Portrait mode anymore. If there's a person, dog, or cat in the frame, or when you tap to focus, the iPhone will automatically capture depth information, so you can turn any image into a portrait later if you wish (and adjust the focus point). Night Mode gets "sharper details and more vivid colors". Smart HDR has been improved too, including for third-party apps.
Emergency SOS via satellite is available in 14 countries already and is arriving in Spain and Switzerland later this month. Building on top of that, the iPhone 15 and 15 Plus have Roadside Assistance via satellite, starting in the US.
iPhone 15 Pro and 15 Pro Max Specs
The front of the new iPhone 15 Pros is Ceramic Shield glass. The display size hasn't changed — the iPhone 15 Pro has a 6.1-inch Super Retina XDR OLED with an adaptive 120Hz (ProMotion) refresh rate, HDR10, Dolby Vision, and a peak brightness of 2,000 nits. The iPhone 15 Pro Max on the other hand comes with a 6.7-inch size. Always-on display has expanded to include Stand-by, a landscape always-on mode for when you're charging.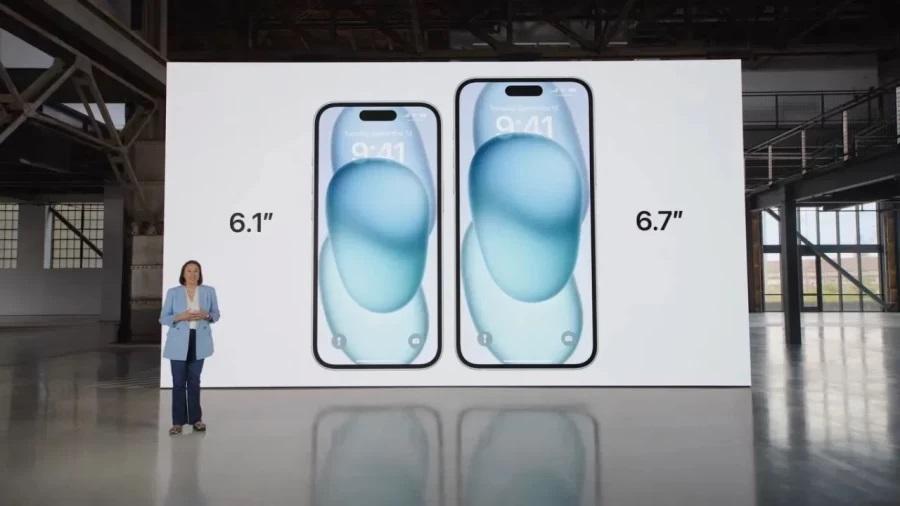 The camera system on the new iPhone 15 Pro is completely new. It all starts with the 48MP main camera (the lens is 24mm f/1.78), which has a bigger sensor with 1.22µm pre-binned pixels and second-generation sensor-shift stabilization.
The main camera opens a few imaging possibilities for the iPhone 15 Pros. You can now capture 48MP HEIF images alongside 48MP ProRAW. The new bigger sensor also allows for 28mm and 35mm digital zoom modes and the iPhone will let you pick one of these focal lengths as your default setting.
The iPhone 15 Pro Max debuts the first periscope camera. Finally, with the Pro Max, you can zoom past 3x and up to 5x, or 120mm in 35mm equivalent terms thanks to the folded optical design. The optical design is unique. Apple calls it a tetraprism and it reflects light four times from the pupil opening of the lens to the folded sensor. The lens itself is an f/2.8, the brightest on a 120mm camera on a phone, which granted is pretty specific. There's optical stabilization too, which Apple says runs 10,000 micro-adjustments per second to neutralize blur.
The A17 Pro chip powers both Pros. It's the first industry chip that's built on a 3nm process. Inside is a 6-core processor with 2 performance cores, which Apple says are 10% faster than in the A16 Bionic, and 4 efficiency cores.
The A17 Pro SoC features a Display Engine with a dedicated AV1 codec and a ProRes codec. The chip allows the new iPhone 15 Pro models to capture 4k 60fps in ProRes RAW, along with support for the industry standard ACES color profile.
The Pros come with a USB 3.0 with speeds of up to 10 Gbps. You'll be able to use the charger and cable from your iPad Pro, MacBook Pro, or Galaxy to charge the new iPhones. Nothing was mentioned about faster charging.
Apple Watch Series 9 and Watch Ultra 2
Finally, we got the Apple Watch Series 9 and the Watch Ultra 2. The biggest update to these smart wearables is the S9 system in package (SiP) with 60% more transistors than the outgoing S8 series chip. It boasts a 30% faster GPU and a new 4-core NPU. This will obviously speed up the OS with faster animations and it's claimed to offer 18 hours battery life.
The S9 SiP allows Siri requests processed on the device, which means much faster results as they don't go to the cloud and back. Apple also promises 25% more accurate voice dictation. Siri can also now access your Health data making it easier than ever to check up on your key metrics.
Double Tap is arguably the killer new feature on the Series 9. This is a new pinch gesture using your thumb and index finger similar to how you operate the Apple Vision Pro headset. It works by sensing changes in your blood flow and wrist movement via the accelerometer and gyroscope sensors. Double Tap allows you to play/pause music, snooze alarms, scroll through widgets, and pick up or hang up calls.
Apple Watch Series 9 comes in the same 41mm and 45mm sizes with Bluetooth and cellular trims. The display can now crank out up to 2000 nits peak brightness and it also down to 1 nit when you don't want to blind yourself late at night.
Watch 9 also gets a new UWB chip which brings improved location tracking. You can still locate and ping your paired iPhone with even better precision. You also get improved integration with HomePod speakers.
Watch S9 boots WatchOS 10 and comes in aluminum and stainless steel casings.
Watch 9 series is also completely carbon neutral. Apple will also match your electricity bill by investing in renewable energy sources around the world.
The Apple Watch Ultra 2 gets the same new Apple S9 SiP and Double Tap gesture controls alongside the new UWB chip for improved location tracking. It's still a tower of watch with its 49mm casing and 1.92-inch LTPO OLED display which now cranks out up to 3,000 nits peak brightness.
Battery life is rated at 36 hours just like its predecessor but it can now extend to 72 hours in low-power mode. Watch Ultra 2 gets a Modular Ultra watch face which provides users with the most amount of info by taking use of the display's outer edge. Night mode can now use the ambient light sensor to activate automatically.
Colors, Price, and Availability
The iPhone 15 starts at $799 and the iPhone 15 Plus starts at $899 in both cases with 128 GB of storage. Pre-orders start on September 15 (this Friday) and the devices will be released on September 22. The handsets will be offered in pink, yellow, green, blue, and black.
The iPhone 15 Pro starts at $999 for a base 128 GB model, while the 15 Pro Max starts from $1,199, but the base model now has 256 GB of onboard storage. Pre-orders start on September 15 (this Friday) and both models will also start shipping on September 22. The iPhone 15 Pro and the Pro Max come in four finishes – Black, White, Blue, and natural Titanium.
Apple Watch Series 9 starts at $399 and Apple Watch Ultra 2 comes in at $799 with pre-orders starting today while open sales kick off on September 22. Color options include starlight, midnight, silver, (PRODUCT) RED, and pink for the aluminum model. The Stainless Steel version gets Silver, Gold, and Graphite options. Apple added new band colors for the Alpine Loop (blue, indigo, olive), Trail Loop (orange/beige, green/gray, blue/black), and Ocean Band (blue, orange).
Written with inputs from GSMArena