Company News
Featured
News
Centenary at 40: Cente-Tech Launches its Digital Messaging Platform in Fort Portal and Kasese
Cente-Tech launches its Digital Messaging Platform in Fort Portal and Kasese as part of the grand celebration of Centenary's 40 years of business in Uganda.
In a remarkable stride towards fostering inclusivity and bridging the urban-rural divide, Centenary Technology (Cente-Tech) Services' cutting-edge Digital Messaging Platform has been launched today in Fort Portal and Kasese as part of the grand celebration of Centenary's 40 years of business in Uganda. This momentous occasion marks a significant milestone in ICT, highlighting its transformative power as an equalizer for all.
The launch of the platform in Western Uganda comes two months after the company rolled out the platform in Eastern Uganda.
Cente-Tech's Digital Messaging Platform aims to revolutionize communication in urban and rural areas, ensuring everyone has equal access to information and opportunities. By providing a seamless and user-friendly interface, the platform enables individuals, communities, and businesses to connect, collaborate, and share resources effortlessly.
The Digital Messaging Platform offers SMS, Email, Interactive Voice Response (IVR), and Unstructured Supplementary Service Data (USSD).
The Bishop of the Fort Portal Catholic Diocese, Bishop Robert Muhiirwa applauded Cente-Tech's visionary approach in introducing the innovative communication platform to their communities. "By leveraging technology, they have opened up new avenues for positive impact, empowering our residents with enhanced connectivity and communication opportunities," he said.
Kasese Catholic Diocese's Bishop Francis Aquirinus Kibira also remarked that the introduction of this cutting-edge communication platform is a significant milestone for their communities.
"By embracing technology, Cente-Tech has demonstrated its commitment to bridging the digital divide and bringing about positive change in our communities. We commend their efforts in using technology as a catalyst for progress and inclusive development," said Bishop Kibira.
Cente-Tech's Chief Technology Officer, Peter Kahiigi, in his address, emphasized the profound impact of the Digital Messaging Platform.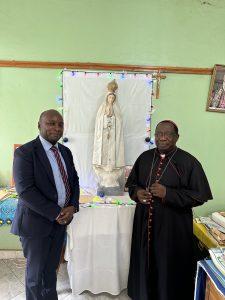 "Our platform represents our unwavering commitment to empowering every individual, regardless of their geographical location," notes Kahiigi. "We firmly believe that technology can bridge the opportunities gap and create a more inclusive society."
With the Digital Messaging Platform, residents of both urban and rural districts can now effortlessly share information, exchange ideas, and explore new possibilities. This digital leap promises to uplift individuals and communities by opening doors to education, employment, and innovation, irrespective of geographical constraints.
As Centenary celebrates four decades of successful business operations in the country, the launch of the platform is a testament to its ongoing commitment to societal progress and inclusive growth. By embracing the power of ICT, they continue to pave the way for a future where technology acts as a catalyst for positive change, fostering equality and empowering individuals from all walks of life.
The introduction of the Digital Messaging Platform is set to herald a new era of connectivity, collaboration, and collective advancement. It represents the realization of a shared vision — a vision where technology truly becomes an agent of change, bringing people together and transforming lives for the better.
ALSO READ: JINJA DIOCESE ROLLS OUT CENTE-TECH'S DIGITAL MESSAGING PLATFORM ACROSS ALL ITS PARISHES