Interviews
"I'm Extremely Self-taught" — Interview with Next Media CMO, Danze J. Edwin
"I learned almost everything I am able to do on the job. I'm extremely self-taught, very trained, and highly mentored and that's why I am trusted with such a role," Danze Edwin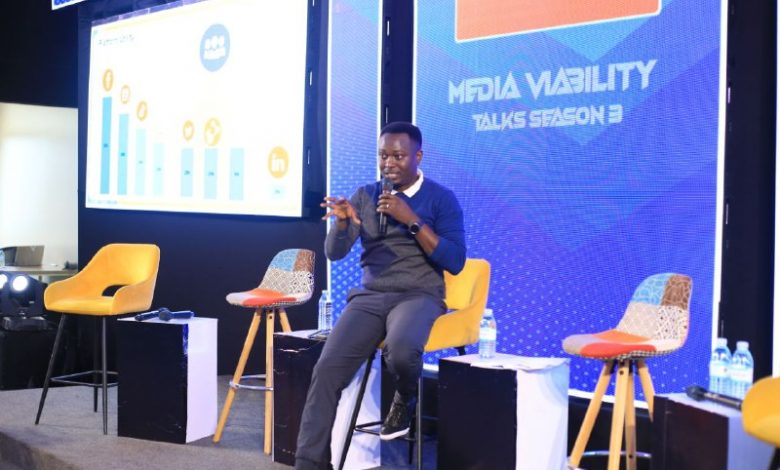 Danze John Edwin has been on our interview radar for some time and yes, we have finally managed to secure one. The media practitioner specializing in broadcast media marketing is the Chief Marketing Officer at Next Media and prior to this position, he was the Head of Digital Marketing.
Danze is well trained and Certified in Digital Marketing Strategy, Content Creation, Broadcast Media Marketing, and storytelling by the BBC World Services, Voice Of America, and the United States Agency for Global Media. As a digital marketer, Danze has worked with/for lead advertising agencies in Uganda; TBWA, Fireworks Advertising, Fideli, and Next Com, among others.
I spoke to the new Next Media Services CMO about his career path, some of the lessons he has learned this year, as well as his achievements, and of course his career advice to young people, among other things – here's everything he had to say.
Tell us about your career path, going from being a social media manager at African Woman Magazine to the head of digital marketing at Next Media Services and now the Chief Marketing Officer
My first job in the line of advertising was at Slyvia Owori Boutique where I was taken on as an intern to do designs for t-shirts that were going to be in her Forever Love fashion show collection since I was doing Industrial and fine art at University. Through that, I got the opportunity to have ideas on how we would market and sell them and since I'm a gamer, a techie and I love movies, I knew about the internet quite expansively so I suggested selling these things online hence an online store.
From that, I got an opportunity to win a couple of her peers and that's how I understood how to deal with clients, how to deal in an office, with cooperates, and the like. Inevitably, I became her personal assistant at some point but beyond that, I learned how to do some online marketing, on social media specifically, and understood how websites and events worked. That particular workplace was very vital to where I am at the moment. At some point, Slyvia Owori boutique transitioned into online sales and then I also got a chance to interact with African Woman Magazine which was a hardcopy but because of the transition to online, the magazine also had to adopt new ways to stay relevant with its own audiences hence the online magazine and it was a success on launch for the first years and inevitably I got picked up by some agencies that were interested in the way I would do certain things.
I'm a huge gamer, gaming paved the way to agencies because I used to take activations to shops, malls, parties, name it. Due to that, a company like Buzz got me. I was supplying gaming concepts to them, setting up gaming tournaments in schools and also their leaver's rocks and other events. Through that stuff I got to meet some of their clients like Pepsi, Mr. Timothy Luzinda to be specific who was very into gaming as well. He picked me up and introduced me to Fireworks advertising with whom I collaborated on some campaigns like Mirinda Miss Teen.
Fast forward, Fireworks takes me on a full-time job as a digital executive. I learned the ropes, strategies, and everything on the go. I didn't know anything to do with digital marketing or whatever it is. Everything was practiced on the job and that's how I end up at NBS at the moment because one of my friends, my former boss left Fireworks, went to NBS then got me from there and took me here. Now she's left and I'm the new CMO. That has been the trajectory. I have skipped so many details but all you need to know is, the most important part is, I learned almost everything I am able to do on the job. I'm extremely self-taught, very trained, and highly mentored and that's why I am trusted with such a role.
What are some of the most successful marketing campaigns you have ever worked on?
The most exciting one was the Sala Puleesa campaign which I did with Crown Beverages Limited at Fireworks. It was one of the first Return on Investment (ROI) kind of campaigns I have worked on where we used social media to make the company money beyond just building their community.
The second campaign was Guinness Black Shines Brightest last year and this year — something I worked on while at Next Media. We designed the take-over campaign where they took over Next Media Platforms; TV, socials, et cetera.
Being part of Nile Breweries website hack campaign and also being part of the treasure hunt amplification campaign for Nile Breweries for Nile Special. Lastly the launch of the Next Media Park, and NBS Sport. Those are some of the campaigns that I am very proud of.
What would you say is the most exciting marketing trend at the moment?
I would say influencer marketing. It's quite exciting if executed perfectly. I could mention Uncle Mo and a couple of other people that are doing it very effectively. I think it's pretty cool that it has been embraced and it's been executed in certain insistences. I love the fact that even media brands are influencers of sorts because they lead conversations in a way and I'm glad that brands are beginning to embrace that kind of format. I can't wait to unveil it to the world next year when we really roll it out. It's something we have been utilizing here at Next Media.
With Facebook banned in the country, how is this affecting the marketing industry?
It has affected eCommerce a lot since Facebook is the biggest platform on the globe and without that huge community, activity, and time spent on the site, it has affected people who used to sell their stuff online, it has affected how people used to watch our content because they used to love to stream on our platforms. If you have noticed Next Media paused on Facebook.
ALSO READ: FACEBOOK DISPLACED AS THE MOST USED SOCIAL MEDIA PLATFORM IN UGANDA
What do you consider the biggest challenges for a head of marketing these days?
One of the biggest challenges is cultivating your communities effectively. Managing your budget because you have multiple touch points where you need to reach out to people but sometimes budgets aren't going to be available. It's either due to the economy, the changes in your strategy of your potential clients or it could just be a decision made by the business owner.
Also skilling and tooling your teams are extremely important. They need access to dashboards, information, and real data because of the volatility of markets out there. If you don't know what your audiences are doing, how, and why it becomes hard for you to make amazing marketing strategies.
If you could start your previous role (head of digital marketing) over again, what would you do differently?
I think one of the most important things I would do differently is, in my first 100 days I would take time to immerse the entire team and organization into digital marketing because I was a bit too technical at the beginning. I used to assume that this was a given, everyone has social media so they should understand this stuff. Yes they understand social media but they don't understand things like community management, audiences, analysts, interpreting campaign results, etc.
Another thing would be getting a much more effective and better team from the get-go. When you work with new companies you tend to be very lenient and work with what you are given so there was a bit of a struggle at the beginning because the team wasn't that highly trained and also hadn't understood how fast-paced digital marketing is so I would have equipped them with more training and also in terms of what they had to execute.
Thirdly, would be moving much more aggressively into video content as soon as possible. My mantra then was content is king but video content should have always been king all the way back from 2016.
ALSO READ: WHY IS DIGITAL MARKETING CRUCIAL FOR EVERY BUSINESS
Outside of marketing, what else do you do?
I'm a gamer. I am a huge fan of video games and a TV presenter of the first-ever gaming show in the country on NBS Sport, called NBS Game plus which airs every Saturday from 9 Am to 11 AM and 10 PM to midnight. I'm also a sports athlete and compete online in certain gaming genres. Lastly, I train and teach people with communication needs or some with a specific consultancy.
What are some of your biggest achievements in your different careers?
The thing I'm most proud of is laying good foundations for brands that I have handled prior. All of them are still very healthy. Then setting up a big robust online network and community for Next Media Services with all its brands.
I am also very proud of the achievement of building one of the best digital marketing teams in a company here in Uganda which is Next Com. And right now this is the biggest career milestone I would have. I didn't expect to do it this soon but here it is. The opportunity has come and of course, I'm only embracing it because again, I am extremely well trained, well practiced, and well mentored. I say that a lot because mentorship will never end even if you're sixty years and I'm very proud of that achievement.
Additionally, this year I was able to do one of the biggest international gaming event called Games and Politics. It's been across the entire globe, and I was the curator here in Uganda. It really amplified my CV and it has opened multiple doors for me internationally.
What are some of the lessons, tools, and techniques you've learned this year, and your key takeaways?
This year's biggest lesson has been networks, community building, and community management plus transmedia marketing. I have done a lot of content distribution, however, understanding how you move content, communities, and conversations across platforms from smartphones to social media, gaming consoles, smart watches, name it is one of the key things I have learned this year through training, a couple of networks and of course I've done school this year. I started a chartered marketing diploma and will be finishing in 2023.
In terms of tools and techniques of course I can't disclose these now but will be unveiling them next year. However, useful real data is something I have immersed myself in today. It is beyond knowing where someone is located, the kind of friends they are around, and the device they have. More intense data like understanding how much time they spend on a site or a conversation, what kind of filter bubbles they are into, et cetera.
What career advice would you give to youngsters reading this piece?
The best advice I would give is to work hard, be known for your work, be expressive, speak your mind, be seen, and let there be evidence of what you have done. Let people at the end of the day remember you for something unique. Don't do a job title, do roles, do teams, do culture, do the brand that you're in. Embody what you're doing because the more you believe in it, the more people that you're leading or reporting to get to believe in you, and I believe that is something every young person should know. Not to forget, be thankful, always remember who has put you where you are, and don't let yourself down.
ALSO READ: ONE-ON-ONE WITH DIGITAL MARKETING EXPERT, GRACE NAFUNA