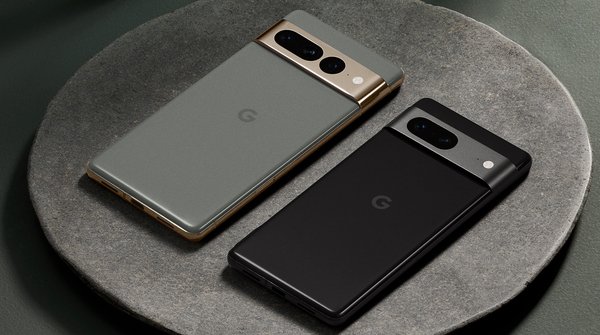 Google has today officially unveiled its new Pixel smartphones; the new Pixel 7 and Pixel 7 Pro, along with the very first Google Pixel Watch. According to the company every Pixel device is designed to deliver a level of personal intelligence that turns day-to-day problems into truly delightful experiences.
"This is what we have been building up to for a while: delivering a lineup of beautifully designed Pixel phones, watches, and earbuds that work together to understand your needs and deliver the helpfulness you expect from Google," Rick Osterloh, Senior Vice President, Devices & Services at Google said in a statement. "We believe Pixel isn't only a phone experience, it's a personal, intelligent, cohesive computing experience."
The Pixels come with a design that the company believes is the ultimate refinement of Pixel, simplifying the parts and construction to make phones that are sophisticated and distinct. Pixel 7 is engineered to understand its users putting Google's personalized intelligence right in your hand while the Pixel 7 Pro is Google's most powerful phone —as it brings on-point performance, and an upgraded telephoto lens.
Both Pixels are powered by the second-generation Google Tensor G2 processor which makes it possible to bring Google's artificial intelligence and machine learning directly to the phone. The phones have been designed to offer great photography coupling features that can sharpen your photos and shoot cinema-quality videos. Google has managed to achieve an optical quality similar to a dedicated 2x telephoto lens for the Pixel 7 and a 10x telephoto lens for the Pixel 7 Pro.
The Pixels come with Android 13 bringing you the best Android experience yet. It's fast, smart, and secure. Plus, the fresh new style and customization capabilities make it feel unique to you. You can recolor the look of your app icons to match the aesthetic of your phone's wallpaper, and even assign specific languages to individual apps.
Both phones have an in-display fingerprint reader in there as well, which is fast and secure. Alternatively, you can use the more convenient Face unlock.
Google Pixel 7
The Pixel 7 has 8GB and onboard storage you get to choose between 128GB and 256GB. The Pixel 7 comes with a 6.3-inch display which is still a flat AMOLED panel with FHD+ resolution and limited to only a 90Hz refresh rate.
Looking at its camera, the Pixel 7 uses a 50MP main camera and a 12MP ultra-wide camera. For zooming in, the phone relies on the relatively high-resolution main sensor and Google's Super Res Zoom image processing (which has been upgraded, thanks to the extra processing power available on the G2 chipset). The selfie camera has a higher resolution sensor of 10.8MP which comes with a wider field of view.
Pixel 7 comes with a smaller battery, 4,355mAh which is reportedly said that it will give you up to 31 hours or so of regular use. However, the more efficient hardware means that Extreme Battery Saver mode can last 72 hours (up from 48 hours).
Google Pixel 7 Pro
The Pixel 7 Pro is the best phone from Google and it has the makings of a true flagship: a sharp, high refresh rate display, a big camera sensor, an amazing camera lens combo, a distinctive look, and security features, among others.
The Pixel 7 Pro comes with a 6.7-inch AMOLED display with a 10-120Hz variable refresh rate. The phone comes with 12GB of RAM and 128GB, 256GB, and 512GB of onboard storage. There is no MicroSD slot, the onboard storage should be big enough.
For the cameras next, the main module is a 50MP sensor, a 12MP ultrawide sensor, and a 48MP telephoto sensor with up to 30x Super Res Zoom. The main camera has Optical Image Stabilization (OIS) as well as electronic stabilization, it can record 4K videos at 30fps and 60fps. The phone can record 10-bit HDR video and Google has partnered with the makers of apps like Snapchat and TikTok to enable higher-quality videos for them as well. The camera app leverages the machine learning skills of the Tensor G2 chipset to create cinematic blur or to stabilize handheld footage even further.
The Pro handset comes with a 5,000mAh battery and supports fast charging, wireless, and reverse wireless charging.
Prices and deals
The Google Pixel 7 starts at $600 for the 128GB variant, the Pixel 7 Pro will set you back $900 for the 128GB variant. Pre-orders start today, Oct. 6 open sales will kick off a week from now on Oct. 13. You can also order cases Made by Google for your Pixel smartphones at both the Google Store and their retail channels.