Company News
Featured
Gadgets
Mobile
MTN
News
Smartphones
itel A58 Launched, Comes With Free MTN Monthly Data Bundle
itel Mobile Uganda has launched the itel A58 smartphone and announced a partnership with MTN Uganda to accelerate the smartphone penetration in Uganda.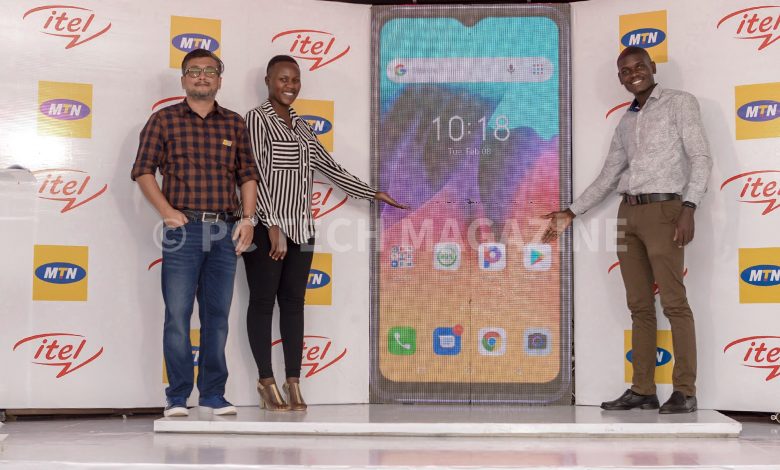 itel Mobile Uganda has launched the itel A58 and announced a partnership with MTN Uganda to accelerate the smartphone penetration in Uganda. The strategic partnership will see itel provide entry-level and budget-friendly mobile phones while MTN avails internet offers with a common goal of bringing more Ugandans online.
The partnership promises to enhance the value of itel's offers to its customers by making access to the internet more affordable. MTN will provide a free 3GB monthly data bundle for itel devices which will latch onto the MTN network, for three months. In addition to the 3GB, customers will be given a 100% data bonus on every data bundle purchased for the first 3 months on the MTN network.
To kickstart the partnership, itel unveiled the itel A58 which is now available for purchase at itel stores, MTN service centers, and authorized smartphone dealers across the country. The phone has been priced at UGX180,000, a pocket-friendly fee and given the specifications of the phone, the price is fair enough. Customers who buy the new itel A58 will automatically qualify for the free 3GB monthly MTN data for three months and a 100% data bonus on every MTN data bundle purchased.
MTN Uganda CMO, Mr. Somdev Sen noted that the partnership further demonstrates the telco's commitment to driving its vision of delivering a bold new digital life to its customers.
"We envisage that by partnering with itel we shall spur digital inclusion through getting more Ugandans online. We believe that getting online and staying connected is helping transform every sector of our society from entrepreneurship to education, health, and everything in between," Somdev said, adding that the recent revision of MTN's daily data pricing will make it easier for more first-time internet users to stay connected more than ever before.
This partnership is one of the various customer-centric partnerships that MTN has undertaken with a vision of driving digital inclusion through accelerating smartphone penetration.
Meanwhile, the new itel A58 smartphone now succeeds the A56 phones that were launched in 2020 amidst the Covid-19 crisis. The itel A58 comes with slight improvements compared to its predecessor —and this includes, the display, a fashionable design, operating system (mobile OS) upgrade, AI-powered Cameras, among others.
While launching the phone, Mr. Henry Kijjo, itel Uganda's Assistant Brand Manager said, "We pay close attention to our consumers' needs, and we try our utmost best to provide products that will satisfy and make life easier to enjoy for them. Our latest product, the itel A58 series, is on par with what our consumers want, and we are sure that they will not be disappointed."
The itel A58 comes with a 6.6-inch display with a waterdrop notch that houses the 5MP front-facing camera which has the ability to shoot videos in 720p at 30fps —which is not bad for an entry-level smartphone. The rear camera on the other end is a dual setup with 5MP + QVGA powered by AI and should be in a position to produce much better photos compared to A56. The rear camera also shoots videos in 720p at 30fps.
Under the hood, the company kept the quad-core 1.3GHz processor, 2GB RAM, onboard storage of 32GB expandable with a microSD card of up to 64GB, and Android 11 (Go edition) mobile operating system, a major upgrade on the phone. The phone is powered by a non-removable 4,000mAh battery which itel claims has a standby time of 28 days, 121 hours of music playtime, 27 hours of uninterrupted calls, and 15 hours of video playtime. The phone is equipped with an AI Power Master [as termed by the company] to intelligently optimize the phone's battery life. The battery can get 2 extra hours on power-saving mode and up to 10 days in the ultra power-saving mode on a single charge.
itel mobile also pointed out the phone is resistant to ordinary drops, dust & moisture-proof, safe to use at extreme temperatures, and stable internal & external structure. itel also noted that the phone has an "i-boost 1.0" feature that offers a "smoother" mobile experience, thus, there will be less lags when using the phone.
itel's A-series smartphones are getting better with every device released in the category. The company is offering more improvement to the phones to give their customer a better smartphone experience at an affordable price.
Established over 10 years ago, itel's mission is to provide budget-friendly mobile communications technology to everyone. It democratizes technology by giving entry to technology and connectedness to consumers without prior access to it, allowing them to get closer and benefit from their social connections. After more than 10 years' development, itel has expanded its presence in more than 50 emerging markets globally.