Company News
Events and Gatherings
Featured
News
Special Coverage
The 2021 Kampala Innovation Week Dates, Startup Uganda Awards Announced
The dates to hold the forthcoming 2021 Kampala Innovation Week have been announced—scheduled to take place from November 22nd to 26th. At the same time, the Startup Uganda awards were launched.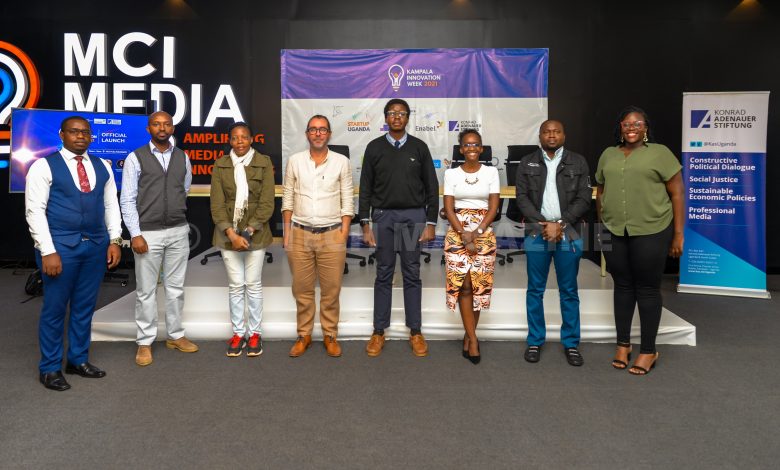 The dates to hold the forthcoming 2021 Kampala Innovation Week (KIW) have been announced—scheduled to take place from November 22nd to 26th, under the theme, "Harnessing the power of innovation and entrepreneurship for Uganda's digital transformation and job creation as we work towards economic sustainability".
The event is organized by Startup Uganda with partners, UNCDP, Enabel, and Konrad-Adenauer-Stiftung (KAS) Uganda & South Sudan —and they will bring together innovators, entrepreneurs, investors, government stakeholders, and development partners to discuss wins, misses, and opportunities for growth in the innovation ecosystem.
Specifically, participants will explore the role of innovators and entrepreneurs in achieving Uganda's development ambitions, deliberate on how innovation and entrepreneurship can be harnessed for job creation and employment, and discuss the links between digital technologies and community transformation.
"It is a crucial time for the innovation space in Uganda. Our responses to the effects of the pandemic especially within the sectors of agriculture, education, and health are going to be great determinants of the economic trajectory in years to come. Making sure that spaces like Kampala Innovation Week are kept alive is a critical part of this development," Jean Kukunda Maaki, Vice Chairperson of Startup Uganda and Director at Design Hub Kampala, said during the launch.
In his remarks, Richard Ndahiro UNCDF said, Innovation is a key pillar within the UNCDF strategy of leaving no one behind in this digital era. "This is a very big role that innovators have to play as we are only playing mentors, and awarding winning roles," he said. Therefore, by supporting initiatives like the Kampala Innovation Week, UNCDF aims to facilitate the systemic growth of a vibrant innovation ecosystem, that will in turn spur the development of an inclusive digital economy.
Ndahiro was happy to welcome Enabel on board to support the Kampala Innovation Week —and to see how they can push the innovation ecosystem on to the next level to be able to deliver on the relevance for the digital transformation in the country.
"We really want to tap into the digital ecosystem of Africa as a whole but most especially in Uganda because we have a very unique digital ecosystem here," said Bart Cornille, Digital for Development Expert at Enabel.
KAS is the new partner to the Kampala Innovation Week. Opolot Nicholas L'akwang, Programme Officer at KAS Uganda & South Sudan expressed his gratitude on behalf of KAS as being the new partner of the event.
"On behalf of KAS, we are pleased to become new partners of this year's Kampala Innovation Week. In order to shape our future, we must actively promote innovation and be open to change. We are very passionate about innovation and it's an underpinning pillar of our work alongside democracy and the rule of law. We feel that the Kampala Innovation Week is an opportunity and platform to reimagine the digital future of Uganda and its role in a globalized world," said Nicholas.
The Kampala Innovation Week will be preceded by two weeks of pre-event activities that include online masterclasses and sessions from various stakeholders within the Ugandan Startup Ecosystem.
Some of the topics of discussion will include Influencing and its career viability in Uganda, a much-needed conversation on mental health and entrepreneurship; and a discussion on the state of the education system given the Covid-19 Pandemic.
As an event that looks to celebrate innovation, participants can expect to hear from some of the current leaders in the space, including Daniel Ruyonga of Teheca, Lynda Kembabazi of KAINO, Nathalie Dijkman of SEMA, Esther Karwera of Akorion Company Limited, and many more.
The main week promises talent from across the continent, with Startup Uganda leveraging relationships with partners like Afri-labs and Impact Rooms to host thought leaders such as Ghanaian entrepreneur and leadership development expert, Fred Swaniker, BBC's Nancy Kacungira, and others.
Simultaneously, Jean Kukunda Maaki, Vice Chairperson of Startup Uganda and Director at Design Hub Kampala allowed announced the opening for nominations for Startup Uganda Awards 2021. The awards will recognize startups of the year in the categories; Education, Agriculture, Health, Technology, and Communication
Maaki called on the public to nominate startups in communities that are showcasing a lot of great inspiring innovations in these different categories.
This year's Kampala Innovation Week hopes to attract even more people than last year, reaching up to 20,000 virtual participants throughout the five days —with an even higher number expected over the two-week pre-event period. With the opportunity to gather even more renowned and accomplished speakers, KIW 2021 promises to be a space dedicated to stimulating and directional discussion with a sharp focus on digital transformation, job creation, and economic sustainability in light of innovation.