Featured
Innovation
Technology
Trainings
Embrace Design Thinking to Solve Your Innovation Problems
The Innovation Village has organized a Design Thinking for Business Innovation program to give corporations hands-on experience in design thinking techniques.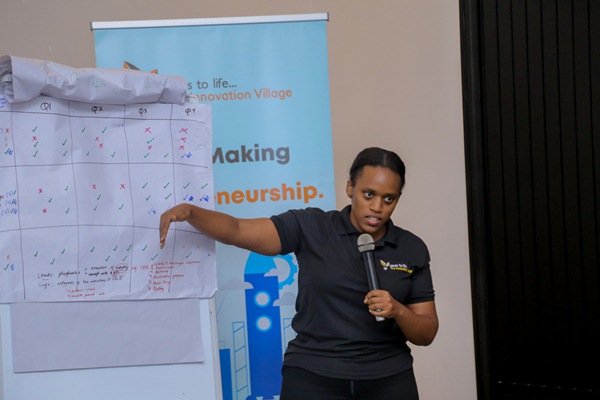 "Design is at the centre of everything that we do whether we think about it or not," says Eugene Kavuma, an enthusiast of Design and Founder of Kampala Design Week.
In an examination of the most successful products on the market, globally or locally, one finds that a client-centered design is at the heart of their success.
In Uganda, a good example of a company that has executed this principle is SafeBoda. Behind every popular feature of the SafeBoda service is evidence of a clear understanding of the needs of the client. The culture of hailing Boda Bodas in Uganda was made even more convenient with a smartphone application that connected the customer to the nearest Boda Boda rider.
The concern about road safety was addressed with riders who were trained in road safety and providing a spare helmet for their customers. Even an inconvenience as little as not having enough cash on hand was addressed through a cashless system.
Successful innovations like these are not created in a vacuum. They are the result of a scientific approach towards solving a problem termed 'Design Thinking'.
Design Thinking is an innovative process used to solve complex problems by finding the most desirable solutions for clients. The process draws upon logic, imagination, intuition, and systemic reasoning, to explore possibilities of what could be and to create desired outcomes that benefit the end-user (the customer).
The practice has been around for decades and has been used by big global brands who laud it as a never-failing approach to creating products and services. Former CEO of multinational footwear maker, Nike; Mr. Mark Parker said, "Design not only creates the product, it also creates the strategy for the company."
Design thinking operates on five principles including empathizing with the end-users, defining the problem, ideating, prototyping, and testing. By applying these to the creative process, one can be certain about making a product or service that will speak to its user's needs.
While many people think of design as something limited to fashion, graphics, and architecture, Eugene Kavuma, Founder of Kampala Design Week (KDW) says design filters into every man-made product and service and affects their use. A lot of thought is injected into the design of private products and services because of the need to compete in the market.
On the other hand, little thought is placed in the design process of public services and products. Kavuma believes that this emanates from the feeling that these mandatory services and products will have users regardless of their nature.
Ralph Warom Othembi is a developer who consciously uses design thinking in his work. He expresses great admiration for how much can be achieved through the design thinking process. He cites Tesla, an American electric vehicle clean energy and technology company, as a golden example of the transformative effect of design thinking.
Warom believes design thinking is not limited to the corporate or public space but its impact must be felt even in the adoption of social causes.
He says, "Tesla is not the first company to make an electric car. Electric cars have been created before by other companies but by design, the previous cars were slower and generally less efficient. However, Tesla's electric cars are faster and generally efficient in nature, it once again sparks interest in using it."
As businesses craft innovative ways to adjust their business models to thrive in a market that is growing more competitive each day with new players and new products. As a result, The Innovation Village has organized a three-day Design Thinking for Business Innovation program. The course will give corporations hands-on experience in design thinking techniques.
Future Lab Lead Samantha Niyonsaba says, "The beauty about Design Thinking is that it focuses on the client and this focus is rewarded later through the adoption of the service in the target market. Going through this program will help organizations transform difficult organizational challenges into opportunities."
The program which is focused on sparking innovation will be interactive and practical in nature. It will give participants a hands-on experience using the tools and techniques of design thinking. These tools and strategies include intuition, prototyping, storytelling, visualization, empathy, flexibility, and creative thinking.
Niyonsaba stresses that the digital migration happening currently necessitates the acquisition of these skillsets by professionals who hope to thrive now and in the future.
Through the program, organizations will be able to make innovations that lie at the intersection of technology and their markets. With design methods like user research, problem framing, and systems thinking to organizational learning, financial process, and customer systems, corporates will be better positioned to identify new opportunities for market innovation.
"At the end of the course, corporates will be equipped with the ability to solve real-life business problems by leveraging design principles to map out ideas, where they identify the most desirable, viable, and feasible solutions. Ultimately organizations that employ design thinking will be able to break the mold, adapt fast to change, and move boldly forward into the future of innovation," she concludes.