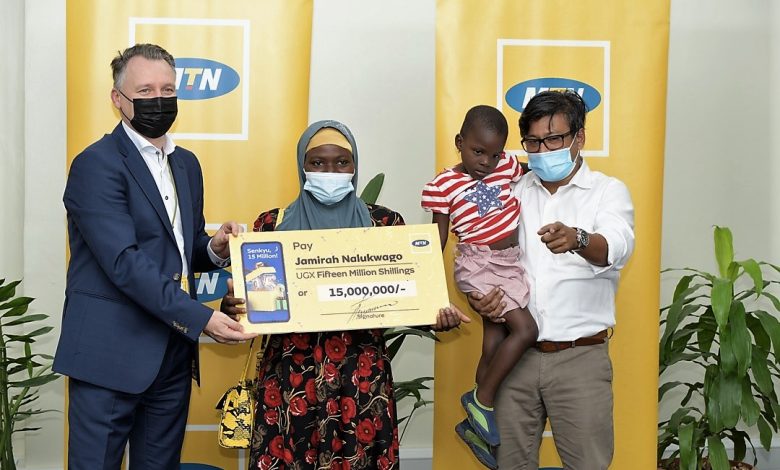 At the end of July, MTN Uganda hit 15 million subscribers on their network, and to celebrate this milestone the telco announced it would reward the 15 millionth subscriber with a cash prize of UGX15 million.
Ms. Jamirah Nalukwago, a resident of Kyanuuna village in Busunju county in Wakiso district was the 15th millionth subscriber and today the telco handed her UGX15 million of which she will keep UGX5 million for herself and share the balance of UGX10 million with 10 other people of here choice.
Mr. Wim Vanhelleputte, MTN Uganda Chief Executive Officer handed over the UGX15 million dummy cheque to Nalukwago celebrating the big milestone while at the same time thanking customers for embracing the ever-growing network.
"You made the right choice by joining the biggest and the best network. Senkyu (thank you) for being the unique customer who joined the network a few days ago, as the 15 millionth customer. We are very happy that you made the right choice and we are happy to celebrate with you the unique history of our company," said Vanhelleputte before handing over the dummy cheque to Nalukwago.
The overwhelmed Nalukwago who could hardly believe her luck said that she chose MTN because of its clear network and good services. She was accompanied by her husband, Ibrahim Kakaire, and their two children to receive her reward.
"I am too happy I decided to buy an MTN line because of the clear network and good services. MTN is the best Network in the world," said Nalukwago after receiving her cheque. She noted that she will use part of her winnings to construct a house and to start a business.
In line with MTN's #GoodTogether belief that fosters the spirit of togetherness and sharing, Nalukwago pockets UGX5 million and shared the remaining UGX10 million with her husband, mother, father, and siblings, who each will receive UGX1 million through MTN mobile money.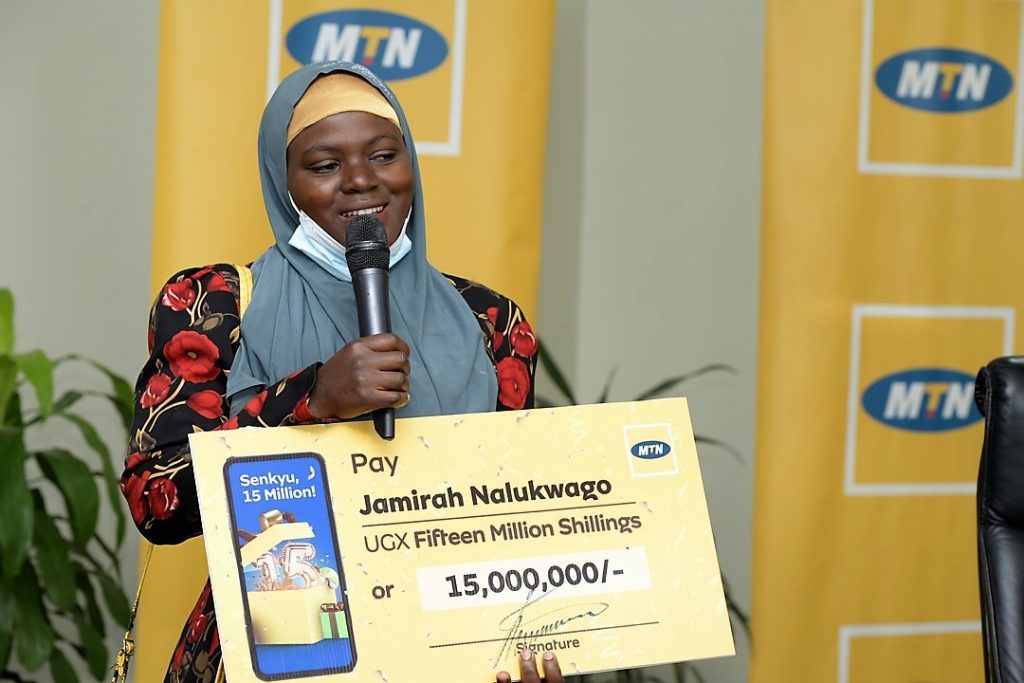 Now with 15 million customers, MTN has further reinforced its number one position as Uganda's biggest and most preferred network.
According to Vanhelleputte, reaching the 15 million customer milestone is a great achievement for MTN Uganda and it goes to show that more people are embracing the benefits of a modern connected life that MTN delivers.
"We made 10 million customers in 2017. And now in 3 and a half years, we now have another 5 million customers bringing our subscriber base to 15 million customers," said Vanhelleputte who attributed the significant growth partly to the growing population of Uganda but also importantly, MTN's commitment to better service delivery.
Vanhelleputte further noted that the achievement of 15 million customers is simply the beginning of yet another race to the next milestone as MTN is intent on giving everyone in Uganda the benefits of modern connected life.
Vanhelleputte lauded the management and staff of MTN Uganda as well as the MTN subscribers, the Government, and regulator; the Ugandan Communication Commission as well as technology partners for their support to MTN in achieving this 15 million customer milestone.