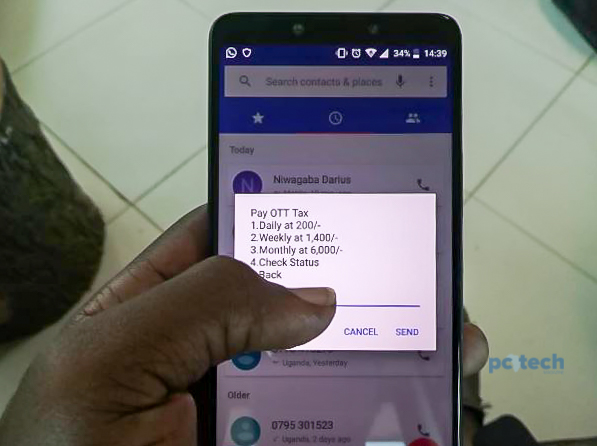 Telecommunication firms, MTN, and Airtel in preparation for government amendment of excise duty and withdrawal of levy on Over-The-Top (OTT) service that will take effect on July 1st, 2021 have removed monthly, quarterly, and annual tax payments —leaving only daily and weekly payments.
The Ugandan government in April of this year proposed to drop OTT Tax and instead levied a 12 percent tax on internet/data bundles. The tax is one of the seven new tax amendments the government will pass on July 1st, 2021 —when the next financial year starts.
Since Members of Parliament did not protest against the new tax, it was then approved by Parliament's finance committee with Mr. Henry Musasizi, the chairperson of the committee noting that the 12 percent levy is a fair tax and that it can easily be collected.
Under the proposal, internet bundles used for medical and education services will be exempted —and won't incur the 12 percent levy.
But the government heavily taxing the internet might in one way or the other affect their e-Governance strategy which was introduced to revolutionize how the government operates as well enhance their relationship with citizens and business communities.
The e-Governance strategy is being spearheaded by the National Information Technology Authority (NITA) Uganda who are enforcing and pushing for e-Service delivery across government MDAs. The government through NITA Uganda is ensuring that there's automation of service delivery for government MDAs resulting in the development of information systems to support the provision of e-services to the public.
NITA Uganda is in plans of rolling out UGhub, an Application, and Data Integration Platform through which data will be seamlessly shared across government systems in a rational, secure, efficient, and sustainable manner. The platform according to Collins Babirukamu, the Director of e-government Services at NITA Uganda, will enhance reporting, planning, and decision making across government and resultantly improve service delivery to citizens.
UGhub will connect/integrate different government agencies to enable them to operate as a Single Unified System and ease access to e-Services. Instead of visiting different web portals, UGHub will host e-services like Immigration, National ID, Driving Permits, KCCA, URA in one portal to ease access to these services swiftly. However, to access all these services, the citizen will need the internet, an enabler that the government is taxing making it less affordable.
The proposal to repeal the OTT tax came after a Market Performance Report issued by the Uganda Communications Commission indicated that the number of internet subscribers not paying the tax was at least 7.6 million of the targeted 18.9 million subscribers. Subscribers circumvent the tax by accessing OTT services using VPNs or utilizing Wi-Fi —which is not subjected to OTT tax.
Uganda Revenue Authority (URA) said the levy has been performing poorly due to users opting to use VPNs or utilizing Wi-Fi, thus proposing to drop the tax and instead levy internet bundles.