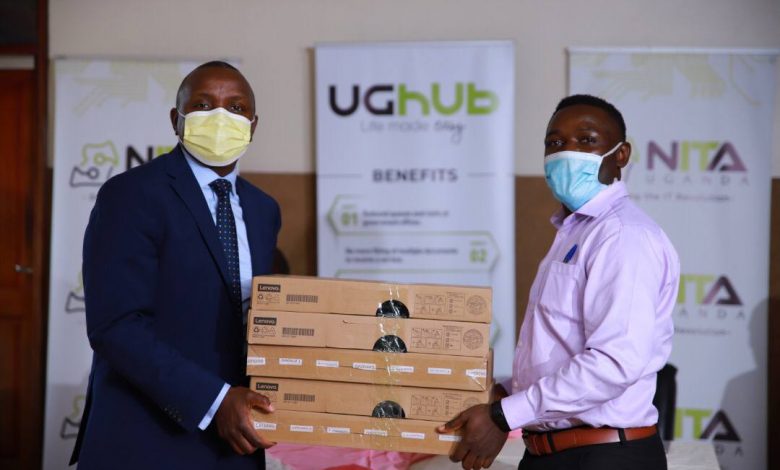 The National Information Technology Authority Uganda (NITA-U) on Tuesday handed over 700 laptops to District Local Governments, City Councils, Municipal Councils, and Town Councils —to empower them to electronically deliver government-private services. The handover follows the commencement on May 6th, 2021 when the Minister of ICT and National Guidance, Hon. Judith Nabakooba handed over 700 laptops to different government MDAs at where she called the public to join the government in this campaign of entrenching the paperless way of doing work.
In this effort to go paperless and adopt e-Services, the handover of laptops is in line with the Digital Uganda Vision and the National Development Plan III which aims to electronically deliver a variety of government and private services in various fields. Thus, emphasizing the goal of improving the Public Sector response to the needs of citizens.
While handing over the laptops, Mr. Collins Babirukamu, the Director of e-government Services at NITA Uganda, said, "The laptops will with no doubt enable service delivery to the citizens especially during these challenging times of the Covid-19 pandemic."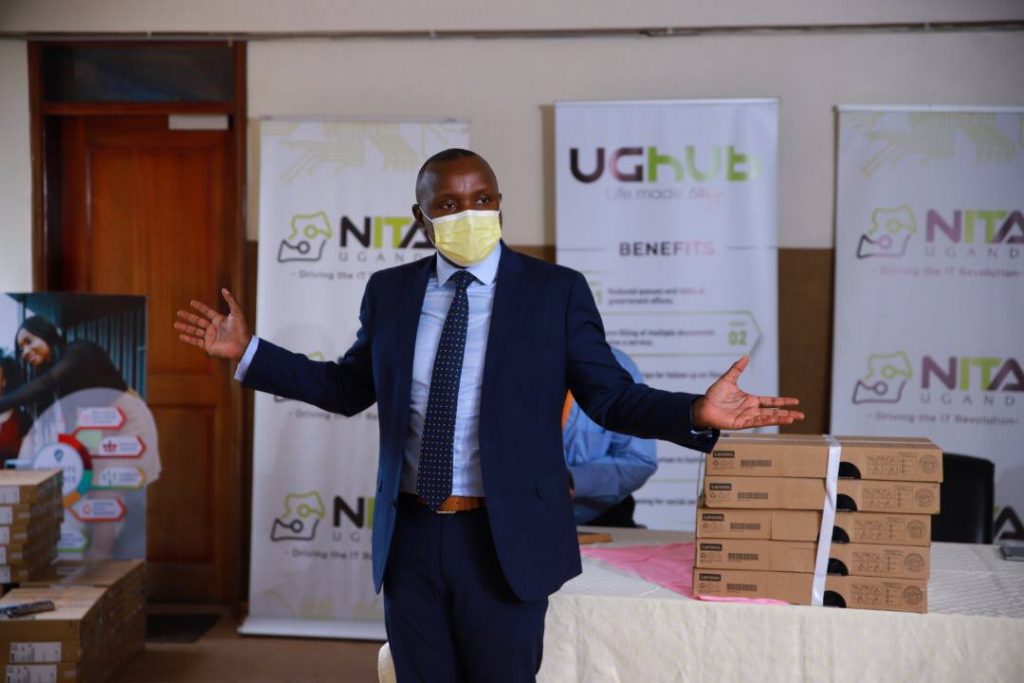 Babirukamu also highlighted that NITA is rolling out UGhub, an Application, and Data Integration Platform through which data will be seamlessly shared across government systems in a rational, secure, efficient, and sustainable manner.
"UGhub is going to enhance reporting, planning, and decision making across government and resultantly improve service delivery to citizens. To date, we have completed the integration of the 27 pilot entities and concluded User Acceptance Tests in preparation for the roll-out of the platform," explained Babirukamu.
The platform is aimed to connect/integrate different agencies to enable them to operate as a Single Unified System as well as further ease access to e-Services. Instead of visiting different web portals, UGHub will host e-services like Immigration, National ID, Driving Permits, KCCA, URA in one portal to ease access to these services swiftly.
Babirukamu said UGHub is what they are spearheading at the moment.
NITA-U has been at the forefront of enforcing and pushing for e-Service delivery across government entities. The government through NITA-U made an effort in ensuring automation of service delivery for government MDAs which has resulted in the development of information systems to support the provision of e-services to the public.
Furthermore, NITA also continues to expand nationwide internet connectivity as a foundation for the deepening of e-governance. Under the Last Mile Connectivity Project, NITA is expanding the coverage of the NBI through laying of an additional 732km of fibre optic cables to connect and provide services to 700 sites including but not limited to local governments, hospitals, schools, universities, among others.