Company News
Innovation
News
Opportunities
Startups
DHR Lab Opens Application for its Second Round Innovation Program
Digital Human Rights Innovation Program creating digital solutions for Human Rights Defenders to execute their work in better, more efficient and more secure ways.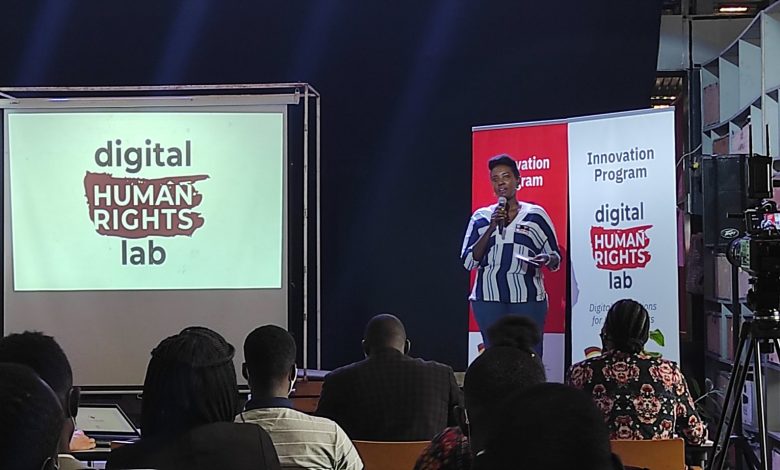 The Digital Human Rights Lab (DHR Lab) has entered its second round of its innovation program, calling on innovators to apply for the innovation program that aims to create digital solutions for Human Rights Defenders to execute their work in better, more efficient and more secure ways. The 6 Areas of Action to focus on include; Digital Inclusion, Capacity Building, Security, Safety & Privacy, Knowledge Sharing & Collaborative Learning, Health Care and Media On/Offline.
The 6 Areas of Action show the thematic areas in human rights work in Uganda in which there is a high demand for innovative digital solutions, approaches and ideas. However, DHR Lab stated that if your idea doesn't fit to one of the 6 Areas of Action, you can still apply for the Innovation Program and propose a new Area of Action.
DHR Lab calls for teams of 2 – 6 people to apply for the program not later than April 18th, 2021 at 11:59PM EAT. (FOLLOW/ CLICK LINK TO APPLY) In order to implement these solutions, your motivated team can apply with a digital idea to win a share of the total amount of UGX60 minion and a 6-month Mentorship Programme.
Summited applications will be evaluated independently by at least two persons according to the following criteria:
Problem-Solution-Fit: Does the idea address the needs of the target group?
Impact: How impactful is the idea?
Motivation: Is the team impact-driven and motivated?
Human Rights Work: Does the team bring experience from previous work in Human Rights?
Team's Skill-Set: Does the team have the (digital) skills to make it happen?
Degree of Innovation: How innovative is the idea in that context?
Technology: Is the idea technology-based or to be implemented with digital means?
10 teams will get pre-selected to join the Design Sprint where they will work together with trained coaches to develop, refine and redesign your idea, solution or approach.
At the pitch event, the 10 teams will be called to present their ideas, solutions and projects and the jury will select 4 teams that will share the UGX60 million cash prize and further support in terms of a 6-month Mentorship Program. DHR Lab clarifies that the cash prize will be divided amongst the teams according to their needs.
DHR Lab begun this program last year, which saw over 140 teams apply for the Digital Human Rights Innovation Program 1.0 with ideas to improve human rights work in Uganda. The 10 most promising teams were selected to further develop their solution in a 4-week design sprint. With the help of the Design Thinking Methodology, the 9 Principles for Digital Development, e.g. "Design with the User" and the coaching support provided by StartHub Africa, the teams managed to make significant progress in a very short time.
The 10 teams took to stage to present their ideas to a critical jury and audience, including virtually via livestream, and only 4 teams; Kuchu Care, Girl Power Connect, Safe Bangles and iRoom emerged as winners sharing the cash prize and are currently receiving mentorships from experts to further expand and improve their ideas/business.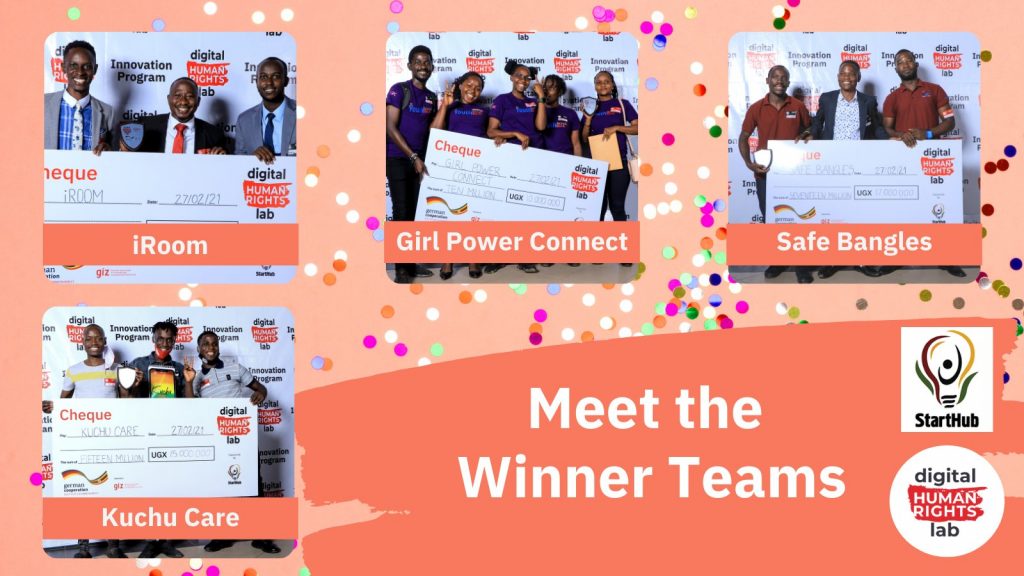 Girl Power Connect received UGX10 million for developing a Youth Scroll e-Magazine that aims to simplify Sexual Reproductive Health and Rights (SRHR) and HIV/Aids information for young people through comics and cartoons. The platform aims to provide age specific information to in and out of school adolescents in both rural and urban areas, secondary school and university students.
Kuchu Care received UGX15 million for developing a mobile application to provide LGBTQ+ friendly services. Currently, many LGBTQ persons in Uganda are unable to access health services and information because of institutionalized homophobia, stigma and the lack of friendly health care facilities. With the app, members can access information and services, talk to a doctor, counsellor and peers without the fear of being stigmatized.
Safe Bangles received UGX17 million developed a wearable safety bracelet to report gender based violence cases in real time. The bracelet is fitted with information, communication and GPS capabilities that can help women and girls at risk of gender based violence report threats instantly by pressing on it for a few seconds.
iRoom received that highest pay of UGX18 million for developing an online platform where share untold stories of human rights violations. While a lot of human rights violations get documented, many remain on shelves of without generating the necessary action needed. The iRoom platform will be a place where these violations are documented and uploaded. Contributors to the platform include human rights organizations, journalists and the general public.