Company News
MTN
News
Opportunities
Special Coverage
Sponsored
MTN Uganda Contributes UGX100 Million Towards The Cheptegei Foundation
MTN Uganda has contributed UGX100 million that will go towards the Cheptegei Foundation as part of the new sponsorship deal offered to World record breaking athlete, Joshua Cheptegei.
World record breaking athlete, Joshua Cheptegei has received a generous one-year sponsorship deal from telecommunications firm, MTN Uganda, becoming the first athlete to ink such a deal from the telco.
MTN Uganda Chief Executive Officer, Wim Vanhelleputte while briefing journalists at Mbale Resort Hotel on Saturday afternoon said, "We are very proud and honoured to announce this sponsorship deal for Joshua. At MTN, this is the next best thing we can do after several years of investment in developing athletics talent and sport in this country."
Vanhelleputte added that, what Joshua is doing for the country [Uganda] is 'awesome and deserves to be recognized especially by his country.'
As part of the sponsorship deal, MTN has contributed UGX100 million that will go towards the Cheptegei Foundation. The Foundation based in Kapchorwa, Eastern Uganda —was started by the 24-year old to develop young athletics talent in the country.
"We promised him [Cheptegei] bigger things if he continued his winning streak. We also promised to get involved in his Foundation, to help build his legacy. So here we are again, fulfilling our pledge to him," Vanhelleputte told journalists.
Adding to his remarks, Cheptegei said, "I have trained with other athletes outside Uganda and have been inspired. That is why I set up my foundation to make sure that I can use my platform to inspire other people."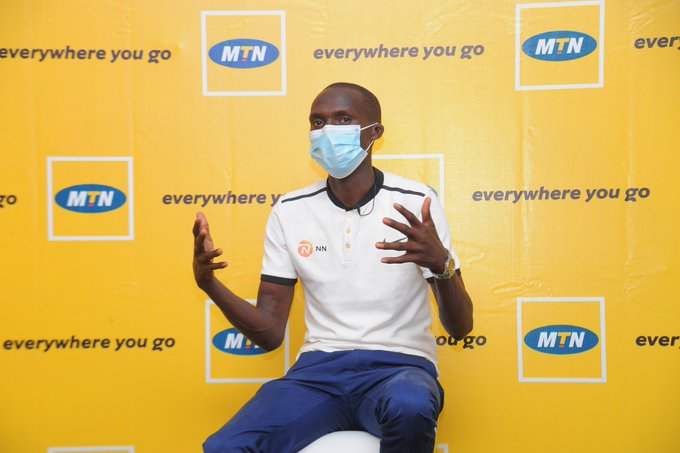 Vanhelleputte added that all this will inspire Cheptegei to go further in his career —as well as inspire other athletes to aim higher. "I call upon other companies to join us in this as we inspire a greater nation," he concludes.
It is not the first time Cheptegei has received a generous offer from the telco. Last year, he was rewarded with a cheque of UGX123,536,000 when he broke the 5,000 meters in Monaco —with a record time of 12:35.36. On top of the cash prize, Cheptegei also received 12GB of data, 35 voice minutes, and 36 SMS per month for twelve months.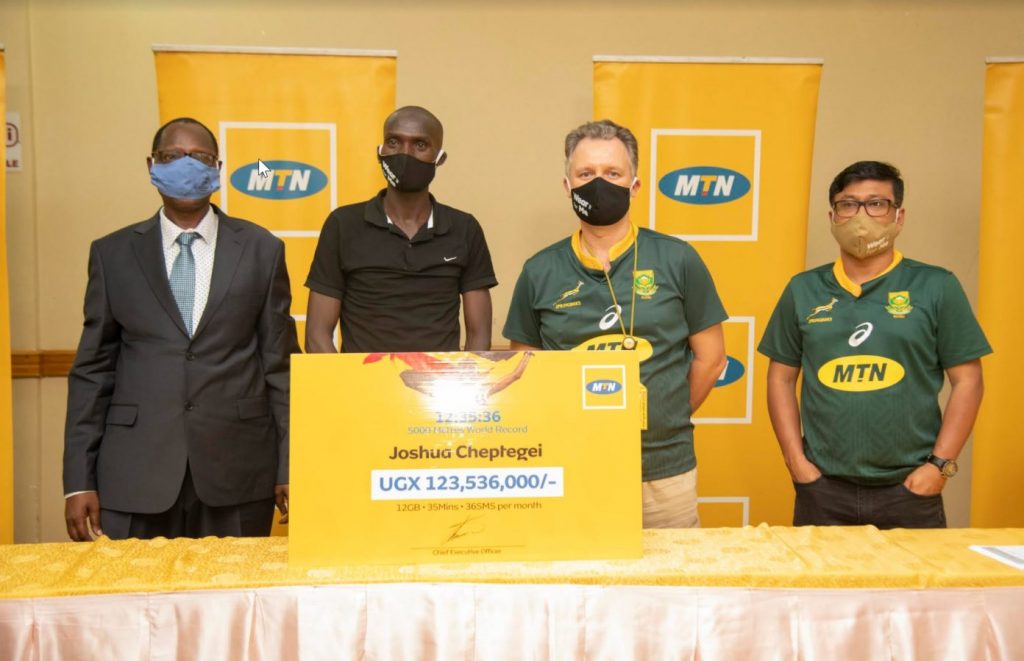 MTN Uganda has been known to be a fervent supporter of Uganda sports and has over the years supported various disciplines including athletics, football, basketball, golf, to mention a few.
Since 2004, MTN in partnership with theUganda Athletics Federation (UAF) has been a part of the development of Uganda's athletics right from the grass roots. It is from this partnership, that the Federation is steadily growing Uganda's reputation as a track and field athletics powerhouse.
Through the UAF programmes and the MTN Kampala Marathon, a lot of bright talent has been identified and gone on to shine at various world championships. 
Apart from Cheptegei, Uganda boasts of other remarkable champions like Halima Nakaayi, Jacob Kiplimo, Stephen Kiprotich, and Dorcus Inzikuru.