Itel Mobile launched their first handset, the Itel A56 this year in March at an unveiling event held at the Sheraton Hotel, in Kampala. The phone was launched in partnership with telecommunication firm; Airtel Uganda, who are offering 3GB of data valid for a month, for customers that buy the smartphone at any of the outlets.
The itel A56 succeeds the A55 that was released last year, and is priced at UGX239,000 in all itel stores and UGX241,000 (comes with 3GB data for a month) at Airtel stores. The price is always key to buying a smartphone. itel smartphones are one of the cheapest devices ever. This is because the company believes that at least everyone can own a smartphone so as they can be connected to the internet, envole with technology, keep up with the trends, stay in touch with friends & family in long distances, among others.
The Itel A56 is a promising handset, just a mere look at its specifications including; a bigger battery, bigger screen and the Android 9 GO mobile operating system that optimize its performance.
The smartphone comes in two color variants, black and blue, and PC Tech Magazine received a black variant for a review.
From the unboxing, the package includes; the Itel A56, a transparent plastic phone casing, a pair of red & black 3.5mm standard earphones, a microUSB 2.0 data & charging cable, and a 5-watt charging brick.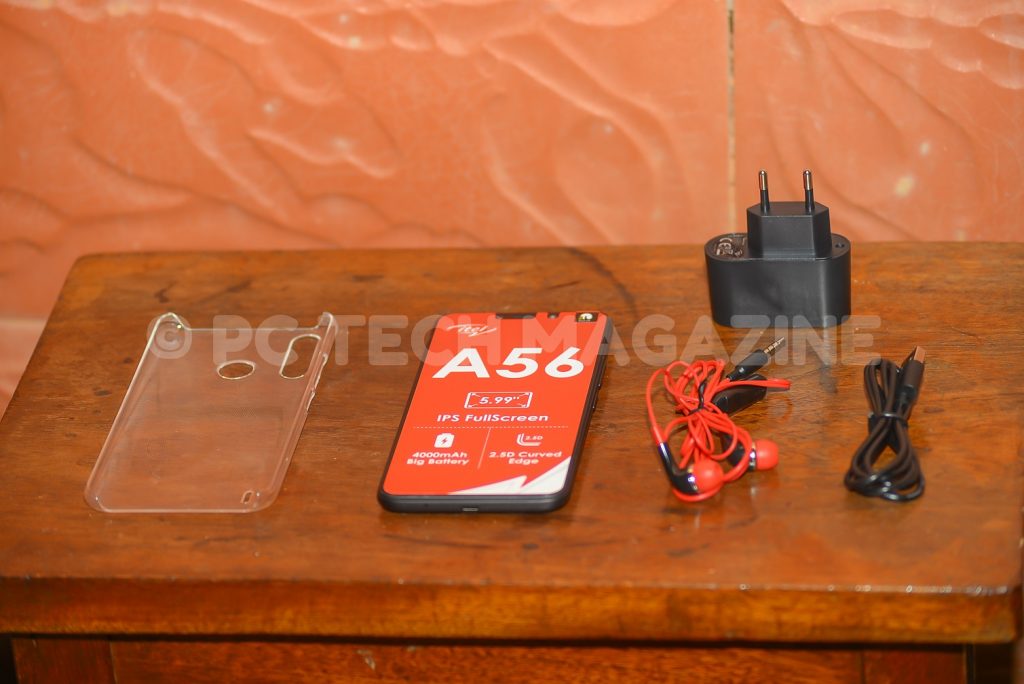 Briefly on the specification and features of the Itel A56, the dual-SIM comes with a 6-Inch IPS display, which happens to be one of the selling points of the phone, where its marketed, "Bigger is Better". It is powered by a 1.3GHz quad-core chip coupled with 1GB RAM and 16GB of internal storage which is expandable with a microSD card up to 32GB.
Running on a non-removable 4,000 Li-lon battery, it comes with Android 9.0 GO Edition mobile operating system which happens to be another key selling point of the phone. When powered on, it comes with pre-installed GO apps include; YouTube GO, Gmail GO, Files GO — to help in optimizing the phone's performance looking at that they have a volume size.
The Itel A56 comes a dual-vertical setup rear camera with 8MP primary + VGA sensors. While the front-facing camera has a 5MP sensor, both camera setups are supported with LED flash light.
It features, a fingerprint sensor at the back and a faceID lock at the front for security purposes. The cameras feature modes such as; HDR, Portrait and Beauty mode — to beautify the photos adding an extra touch to make them worth sharing.
Likes and Dislikes of the Itel A56
As we mentioned before, the phone is a promising handset. Its bigger screen, battery, Android GO, all make it a worth buying smartphone.
Our first impression is obviously the Android GO. Running on a 1GB RAM and 16GB ROM, it definitely needed a much lighter operating system to run smoothly with less lags. Thus, the operating system is much better of not only the Itel A56 but all Itel smartphones considering that they are entry-level smartphones and come with less RAM.
The bigger screen is a like as well. Gives good viewership and more working space.
The 4,000mAh battery is advantage for the phone. If the user is a minimal or optimal user, the can last up to 3-days. Heavy usage gives you a day, and needed to be charged which takes 2 and half hours.
What we really didn't like on the Itel A56 is the phone has no 4G capabilities. With the enrollment of 5G technologies, Itel Mobiles ought to consider having 4G-enabled smartphones even for entry-level handsets.
The base storage, 16GB is still less and at least the Chinese manufacturer should for their next smartphone consider equipping it with a 32GB storage which is then expandable to 64GB.
The speaker grill is place at the back bottom which in our opinion is a poor placement considering that it can be accidentally covered thereby ending up dropping the volume.
In conclusion, the Itel A56 is a good smartphone and can be compared to the like of the Itel P33. We recommend buying one if you're a first time smartphone holder, gifting a family member in a rural area, to mention a few.