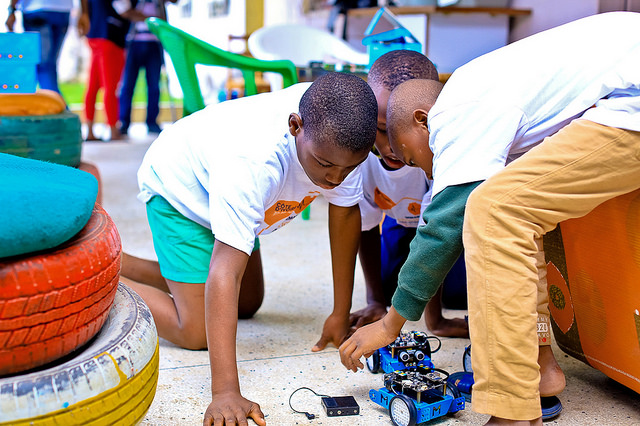 Next Einstein Forum (NEF) will hold its annual week long celebration of Science and Technology; Africa Science Week (ASW), in 35 countries (Uganda Inclusive) throughout September to December 2018 with thousands in attendance – from students, to scientists to technologists – actively engaging in coordinated science events across the continent.
Led by NEF Ambassadors from each country, the program is designed to instill a curiosity of learning and interest in STEM (Science, Technology, Engineering and Mathematics) pursuits among the public, allowing young Africans, especially the women and girls, to become excellent scientists and technologists.
The NEF Ambassadors will work with local partners both in the academic and private sector to make ASW a success. In Uganda particular, NEF has partnered with 40 days over smiles, Andela, ICTAU, Hive Colab, Policy Uganda, NSU, Rotaract, and You Innovate Club.
The ASW Program for Uganda will run from 24th – 29th September, 2018 led by Joanitah N Nalubega; NEF Ambassador to Uganda.
Some of the activities to be covered will include; Coding Workshops, STEM Outreach in High Schools and Universities, Hackathons, Science Fun Day, Industry Visits & Round-tables, Women in Science Activities, Science 4 Entrepreneurs Events, Academic Conferences, TED Talks, and Science Caravans.
In general, the ASW wants to encourage African citizens to get involved, participate in the NEF's 1mil1 campaign and become interested in STEM, and how it impacts their daily lives.
Below is the Full program of Uganda's Africa Science Week
Day 1: (Monday 24th)
Scientist Spotlight features in the local Media with Pollicy, Neurological Society of Uganda (NSU), Evidence & Methods Laboratory; A look at emerging scientific and technology trends in Uganda.
Day 2: (Tuesday 25th)
Women in Science Forum; An interactive conversation on mentoring as a tool for bridging the gender divide in science. An awards ceremony for phenomenal Women Scientists in Uganda happening at Andela Uganda. Time: 2pm.
Day 3: (Wed 26th)
Rotaract Professional Leadership Development Fellowship; A dialogue on development of science in Uganda over the past two decades and opportunities for young scientists today. And building meaningful and impactful STEM careers. Time: 6pm at the Nommo Gallery with Rotarian F. F. Tusubira, NITA-U Board chairman as the Guest Speakers.
Day 4: (Thur 27th)
ICTAU LAN – Science Cocktail; A networking cocktail for top scientists, technologists, engineers and policy makers over critical conversations on harnessing emerging technology and scientific research for the development of Uganda. Time: 5pm at Hive Colab.
Day 5: (Friday 28th)
1. Leaders Innovation Camp; A dialogue on innovation for the 21st Century and opportunities for African Scientists, with university student and guild leadership.
Venue: Landmark hotel, Muyenga. Time: 10am.
2. Science Fun Day; An evening of experiential science and science-themed movie screening with the children of Kibuli community in Kampala. Time: 3pm at the Merowa Primary School.
Day 6: (Saturday 29th)
Science Fun Day; An evening of experiential science and science-themed movie screening with the children of Kitgum Prisons School.