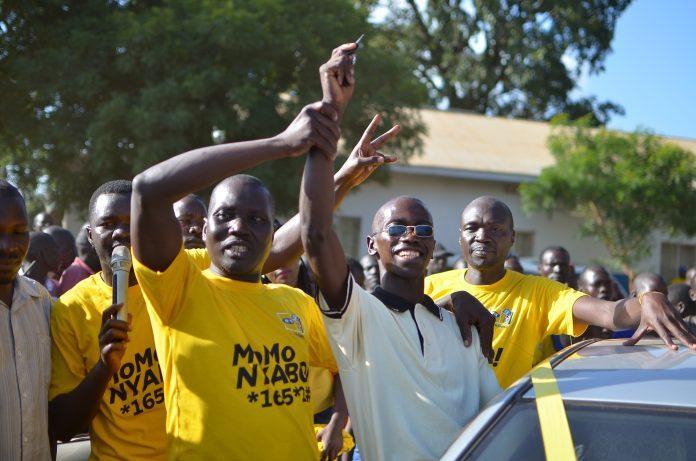 Following its success last month since the launch of the MoMo Nyabo promotion, Telco firm; MTN Uganda last week handed over three Toyota Premios to winners Kiwenda, Pallisa and Oyam. The three join the first winners from Kawempe, Ibanda, and Bweyogere who recieved the cars first. Out of twenty four (24) cars the telco has now given out six (6) – remaining with eighteen (18) that are to be given away not later than July 15th when the promo is scheduled to end.
The handovers last week were tinged with several surprises and excitement by the winners with Justus Byamukama a foreman at a farm in Kiwenda as the 4th winner, Tom Ojangole from Gogonyo in Pallisa District (5th), and Odongo Justine from Ngut-chati village, Oyam District (6th).
Like we reported before, the MoMo Nyabo promotion by MTN Uganda is to encourage its customers to use Mobile Money or use an agent for Easy Load to load airtime or buy mobile data bundles as scratch cards are expected to be phased out at the end of June 2018.
To phase out the use of scratch cards was a directive by government regulatory body of the communications sector; Uganda Communication Commission (UCC) back in March, at the time Kampala-based cashier Suzan Magara when the Kidnappers used untraceable sim cards causing the body to temporary halt sim card sales, replacements, or swaps.
Little is known why commission issued such a directive (phase out scratch card sales), but it was rumored that this came after airtime vendors illegally increased retail prices for airtime scratch cards last year in November which telcos denied any knowledge of the increment in rates even though vendors claimed they were advised by their distributors to effect the increase.