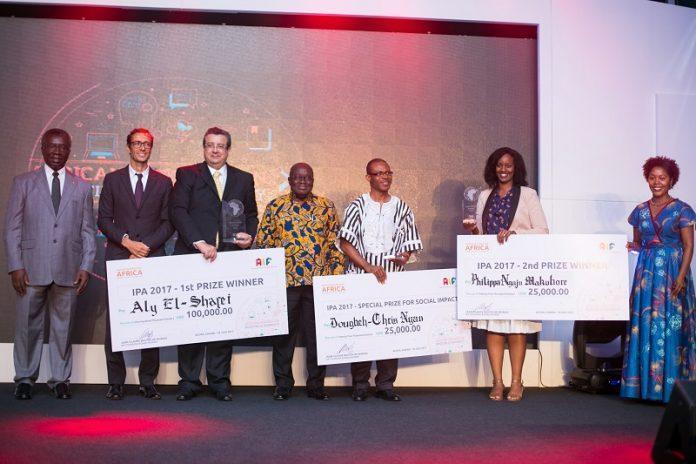 The African Innovation Foundation (AIF) in collaboration with the Government of Rwanda on Tuesday announcement a partnership that will see Rwanda host the 7th edition of the prestigious Innovation Prize for Africa (IPA) from October 11th – 12th, 2018, at Kigali Convention Center.
The challenge is aimed at showcasing African ingenuity as well as recognizing and connecting African innovators and entrepreneurs with key innovation ecosystems enablers.
The decision to host IPA in Rwanda received endorsement from the Government of Rwanda, and the Host Country selection was based on the bid Rwanda submitted which underscored the Government's commitment towards building a knowledge based economy by promoting innovation and entrepreneurship.
Honorable Jean de Dieu Rurangirwa, Minister of ICT, said it was an honor for Rwanda to host 2018 Innovation Prize for Africa. He further emphasized on the effort made by the Rwanda Government of adopting innovative solutions for the Country's problems.
"We commend AIF's work to address the continent's challenges through innovation. IPA's message cuts across generations and puts forth mindsets that are passionate about the upliftment of Africa. Therefore, such events showcases African ingenuity," he said.
10 nominees will be selected through a rigorous and validated process driven by an expert panel of judges. The top three innovations are selected and the winners receive a prize share of US$150,000 with each nominee receiving a US$5,000.
Over the past six years, AIF has partnered with innovation enablers and governments in Botswana, Ethiopia, Ghana, Morocco, Nigeria and South Africa to host the Innovation Prize for Africa event. Together with its partners, AIF has made great strides in strengthening African innovation ecosystems through ongoing collaborative programs and strategic partnerships aimed at unlocking the potential of African innovators.
Today, AIF has a network of over 9,400 African innovators across 55 countries and over 400 innovation enablers.
Notably, past winners include Uganda's very one; Philippa Ngaju Makobore – who emerged second in last's year competition for her solution an 'Electronically Controlled Gravity Feed Infusion Set' that is designed to accurately administer intravenous (IV) fluids and drugs by controlling the rate of fluid flow based on feedback from a drop sensor.
The system according to reports and Philippa, is easy to operate and has key safety features which include alarms for rate of infusion (rapid or slow), total volume (over or under) and faulty sensors. A battery utilizing a hybrid (AC mains and solar) charging bed powers the device.