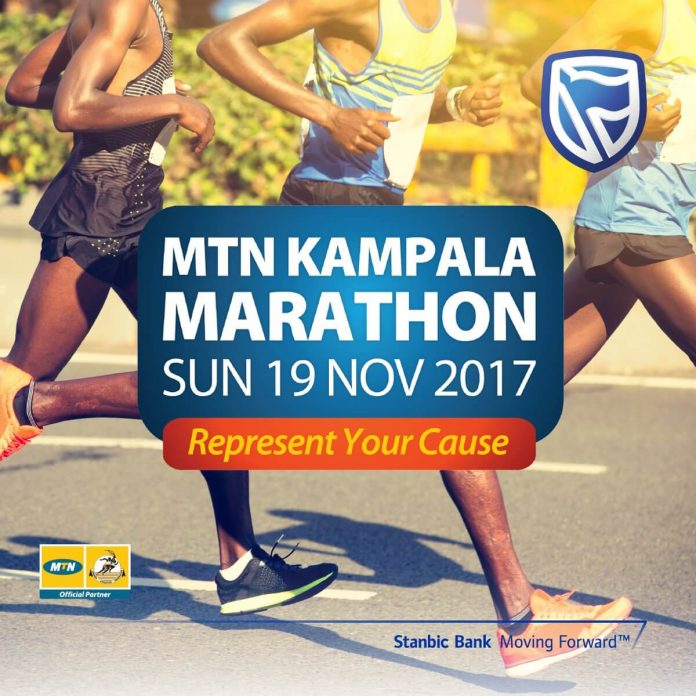 Telecom firm; MTN Uganda mid this year, launched its annual sporting event – but this time around with a unique twist in it. The firm this time around asked its participant to choose what cause they will be representing or running for on the 19th of November, 2017. The MTN marathon proceedings for the past events have been going to one cause, however, this time around, the proceedings will be shared for two;  1. Improve Maternal Health at Komamboga and Kiswa Maternal Health Centers or 2. Reduce Child Exposure to Cancer – where the proceedings will carter for replacing cancer causing asbestos roofing in 20 Kampala Schools.
Since the launch of the 14th annual MTN Kampala Marthon, participants have been paying their proceedings via MTN Mobile Money where they are to choose for what cause they want their contribute proceed to. As of today, MTN Uganda has now made it official as its participants can now do physical registration at MTN Service Centers and Stanbic Bank branches. On the other hand, the mobile money registration is still ongoing, DAIL *165*1*5# and follow the prompts.
Valery Oketcho, Corporate Communications Manager at MTN Uganda in a press statement said, "As of today, we are now accepting cash payments of 25,000 UGX to enable you to run to represent your cause at the MTN Kampala Marathon."
Therefore, the physical registration is available for those who are not able to use MTN Mobile Money option to register. So the physical registration will be the same thing – where the participants will be asked what cause their will represent to make their contribution.
On the other hand, MTN has also made the kits for participants that had already paid for available and can be collected at MTN Service Centres at Lugogo, Forest Mall, Kampala Road, Kyaggwe road, Victoria Mall in Entebbe and at Stanbic Bank William Street.
As you probably know, the MTN Kampala Marathon is one of the biggest annual sporting event in Uganda, where different people from different come to join hands to help the needy. Over the last 13 editions, nearly 3 billion UGX has been contributed to several causes.
Editor's Note: The registration can be for the 42kms, 21kms, 10kms, and 5kms. The 5kms is a new introduction to the marathon, as it caters for families and short distance runners.