The Speaker of the Parliament of Uganda; Hon. Rebecca Kadaga on Tuesday lauded Huawei for their efforts in improving Education in Busoga Kingdom. This happened at the Busoga Kingdom Headquarters in Bugembe where Huawei donated an examination printer and photocopier, an office printer and photocopier too, reception chairs, laptops, desktop computers and reception table among others to the Busoga Kyabazinga Examination Board (BUKEB).
This is not the first time we see the Shenzhen-based IT firm improving the well being of school children. In June this year, they partnered with telecom firm; MTN Uganda to give laptops and school bags to Kireka Barracks School. The partnership was in relation to MTN's 21 Days of Yello Care initiative; a staff volunteerism project that aims to continue driving access to education, particularly through the digitalization of teaching.
Notably, the donation worth 30,000,000 UGX (roughly USD$8301) was handed to BUKEB by Mr. Bai Chengyu, Huawei Uganda's Executive Director – Government and Enterprise Business in the presence of the Kyabazinga of Busoga His Royal Highness William Gabula Nadiope, the Speaker of Parliament Hon. Rebecca Kadaga, and the Chinese Ambassador to Uganda H.E. Zheng Zhuqiang.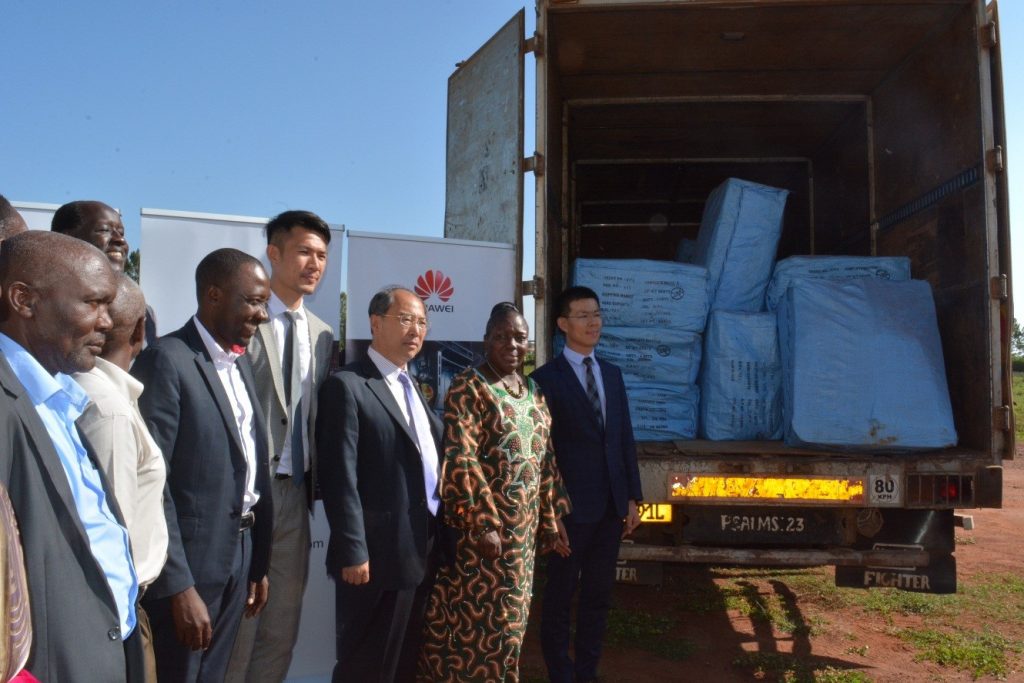 "Busoga had the worst six performing districts in the national examinations. But with this boost I believe there shall be a big improvement," Hon. Rebecca Kadaga stated during the donation ceremony.
Speaking at the ceremony, the Chinese Ambassador to Uganda H.E. Zheng Zhuqiang also commended Huawei for being a responsible corporate citizen and encouraged the people of Busoga to embrace education.
"I urge the beneficiaries to embrace education because through it, the world is empowered by knowledge to make the impossibilities possible," he said.
Mr. Bai Chengyu, Huawei's Executive Director – Government and Enterprise Business group noted that the donation will improve the education standard in Busoga and encourage many parents to invest in their Children's pursuit of knowledge.
Huawei has a prgoramme dubbed the "Seeds for the Future" a program that aims at developing young ICT talents all over the world through technological training and hands-on skills. And on this the Hon. Speaker wished that the Busoga region is considered in the selection of the participants to take part in the final 10 students that receive technological training in China under that program.
"Let at least two come from the Busoga region," she said.[related-posts]