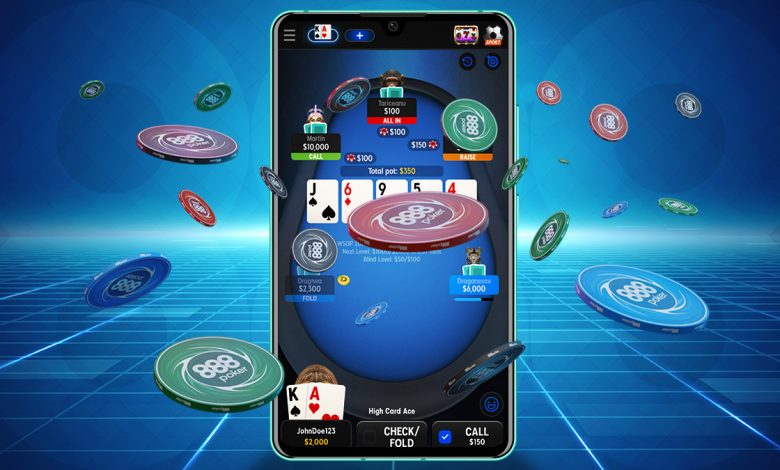 Playing poker is a fun-filled experience especially if you get an opportunity to play poker online with lots of members. It is even more tempting when you play online poker and enjoy exclusive offers at poker websites. With the availability of 888 poker app, you wouldn't imagine the fun I have experienced while playing poker on the move on my mobile devices.
Let us see the excellent features that make this app so compelling.
Getting Started
New players can start playing without much fuss. The process begins with the installation of the app on your mobile phone or tablet. As an iPhone user, I downloaded it from the Apple store, iTunes have got the official 888 poker app that is free. After successfully downloading, setting up an account with the username and password is required. Now I needed to choose a compatible browser to start playing with it. For iOS users, playing via Web Browser like Safari is a good option. With a secure WiFi or a 3G/4G LTE network, I was all set to enjoy the gaming sessions without interruptions.
App Features
Few features are compelling and make the app a good choice. 888poker has won the award of Best Poker Operator for 3 years in a row. Also, the app bags Global Gaming Awards, and Socially Responsible Operator Award. When money is involved, it is vital that the transactions are secure and safe. You can make payments 24/7 online with 888poker, and be assured that all the transactions are 100% safe and far from the hands of hackers.
Gameplay
While beginning my first gaming session with 888 poker app, I realized that the interface of the game has a clean and clutter free design. The design is apt for Android, Blackberry, iOS and various other mobile devices. Players can play in landscape mode, and both free and real money games are available. If you are a player like me, who loves immediately to start a game, then choose SNAP Fast Fold Poker, where it is possible to just fold a hand and get a hand instantly without losing the continuity of the game.  For the ones who love to play innovative poker games, then Seven Card Stud Poker Games are the best options for them.
On the other hand, Texas Hold'em Cash Games would let you earn real money by playing poker online. Sit & Go's and the pre-scheduled tournaments are available, and there is a massive selection available for this. As a player, I got a joining bonus of $1 and $31 while participating in the tournaments. Bonuses are granted gradually from the 7th day of being claimed. They expire after 24 hours and can be withdrawn only when 2.5 bonus points are accumulated for every $1.
Gradually I found this site quite gripping as I was collecting money after choosing to play Texas Hold'em Cash or Omaha Hi-Lo tournaments. Here a player would enjoy playing the games that are customized to suit his needs. For customizing the game, I can even choose the Poker avatars.
Though I will not say that there is a vast selection of games to choose from, you can play what your mood prefers, and loads of practice play tables would let you certainly win.
888 Poker believes in responsible playing, so you do not need to spend too much. There are stake buy-ins just for a few cents, and you will never feel running out of money in buying these.
ALSO SEE: See some great poker sites on Fliptroniks.
Shortcomings
And yeah certainly there were some limitations too for the 888 poker mobile clients as no heads-up games were seen. Moreover, multi-table tournaments are also absent. Mobile users get fewer stakes as compared to the desktop players.
Though 888poker offers an excellent gaming experience but the shortcomings like when the cashouts take more than 3-4 days, then it becomes frustrating. And no third party software are allowed this means, HUD (heads-up display) cannot be used. If you are not a high volume player, you cannot make use of the VIP scheme. The high stakes tournament department needs to spread out more like the Hold'em and Omaha Hi-Lo tournaments.
Conclusion
Overall, a good gaming experience that has let me enjoys a pool of tables and tournaments. However, it needs some refinement to give the app a fresh and vibrant look. The regular promotions and joining bonus of $88 are surely encouraging reasons for the users of a smartphone to try this fascinating app.