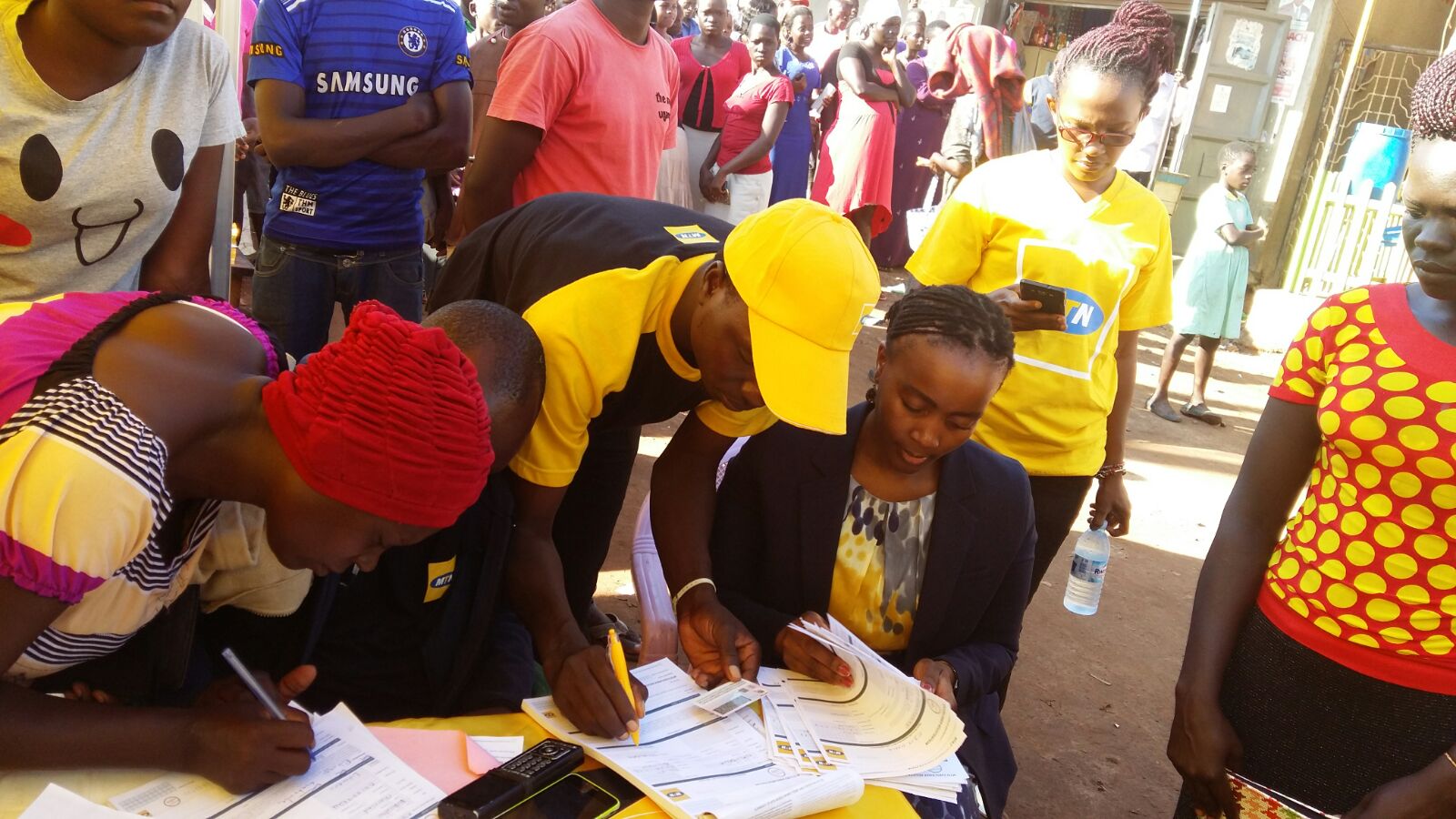 Early this month the telecom regulator Uganda Communication Commission wrote to all telecom players to register all its subscribers or face consequences, including revoking licenses, fines or disconnection. The telecoms took this notice very seriously, and this month we've seen creativity and innovation come into play as each tries to ensure their customers SIMS are registered and not cut off.
This process has been ongoing since 2013, when the government introduced SIM card registration, and the deadline was 30th August 2013. What happened is that due to the logistical challenge of the manual process, many SIM Cards were partially registered and were deemed to have complied with the law, and the operators were allowed to continue the verification process. "Partially registered" in this case means the customer has filled in the form and submitted the requirements but they have not yet reached central verification centers and been verified.
The rural mobile user
There has been increasing mobile network penetration, which is a good thing for the rural communities that are now able to communicate easily, as well as transact with mobile money. We have written extensively about how mobile money is driving financial inclusion, so the significance of the presence of mobile operators in these areas is more critical than you think at first glance.
However this presents a challenge for registration in two ways:
First, there's an increasing number of new activations coming from increasingly remote and rural areas, increasing the logistical challenges that the operators face in getting the documentation to verification centers.
Secondly the users in those remote areas are sometimes illiterate, and may make mistakes on the forms which will impede verification of their documents and keeping them in "partially registered "state for longer. In addition to that, the requirements such as photocopies of their identification, passport photos and the like aren't as readily available to them as they are in the towns. And because of the small numbers that will be trickling in at each registration center, it doesn't make financial sense for the agents to have the equipment for the customers to use.
For the users in these remote areas, disconnection could mean interruption of their livelihood as many are dependent on their mobile phones for communication with customers for their produce, their relatives and also the means of their financial dealings.
With Mobile Money someone in Europe can send money to their parents and they receive it on their mobile phone.
MTN Uganda CEO, Mr Brian Gouldie speaking to the press last week after a tour of the MTN SIM Card Verification Center said "The SIM Card registration has been manual since the implementation years ago, and it can take 7 days to 3 months for the documentation to move from the registration point to verification point at the verification center."
It's worth noting that even though there is a deadline looming over everyone's heads, the registration is continuous and the challenges have to be tackled as there are new customers being connected to each network every month.
There is an estimated 500,000 new customers connected every month, and most of these new connections are being made up country, in remote areas seeing that penetration in the urban areas is basically saturated.
So this is more about continuous registration than it is about the deadline. There will continue to be more and more rural users in need of communication and financial services every month.[related-posts]
Registration goes digital
In order to overcome the challenges of the old system, the telecom operators have developed new solutions to speed up the process and have near real time registration and verification.
MTN is rolling out a digital process that has an Android application that will extend the reach to even the remotest areas. Customers will not need to photocopy documents or to have passport photos as the person registering can handle all that.
When I bought a Vodafone MiFi recently, I had to go through a similar process where they took my photo, scanned my ID and I left with the SIM card registered.
When all telcos roll this out, the SIM Registration will have caught up with the times, and verification can happen quickly.
More recently, MTN, Airtel and Africell took the registration online so that you don't even have to go to the center to register.
These systems don't come cheap and this cost is borne by the operators. MTN for example has spent over $350,000 on their application development and roll out, and has over 200 employees at the Verification Centre. With the biggest market share, we can estimate that other operators are deploying fewer people and spending less, but also investing significantly in the process.
"The other SIM Card"
We're aware that Ugandans are two SIM holders, and a sizable percentage of mobile users have more than 2 SIMS.
Hesketh Serumaga, a Social Worker at World Vision International has at least 1 SIM card for each network. He says he bought a SIM for each network in order to take advantage of the different offers that they keep rolling out. Hesketh learnt long time ago that offers are always sweetest for "On Net" activity.
Hesketh has been monitoring costs of data bundles more over the last one year, and since he bought a smartphone, he doesn't spend on phone calls as much as he used to.
He has only registered the 3 SIM cards that he has on him since he has been traversing the country most of this month and has not had time to dig up the others and register them. So that's where his spend for the foreseeable future will be.
Therein lies the challenge for Ugandan Telcos: the extra SIM Cards.
As it is, most of the SIMs that people use regularly were registered long time ago. The Telco representatives we talked to were all cagey on numbers, but the general feeling is that most people, especially in urban areas have registered their main SIM cards.
However when the hammer falls on 30th, it's likely that people will stick to the SIMs that they have for some reason already registered, locking out other operators from their communication budgets. Whereas it has been easy to open the drawer where you keep the SIMs and load a bundle on the modem that you've not used for the past 1 month, when the unregistered SIMS are disconnected, customers are likely to abandon them and stick to the ones they have.
Courting the customer
In an informal conversation with a bunch of bloggers last week, it was speculated that the price cuts to 3/= that telcos implemented recently were actually about making sure customers were using their SIMS and registered them. They may have decided to cut their earnings in the short term as an investment in the customers' future expenditure. If you have 5 SIM cards and you'd like to register two, your choice is likely to be influenced by who is offering the best deal at the moment.
We've also learnt that in addition to operators taking registration online, they are rewarding customers for registering in a bid to ensure no SIM gets left behind. So SIM card Registration is going to decide where customers will be spending going forward, and thus which telecom will be able to meet their targets.
Register your SIM Card Online
If for some reason you still haven't registered your SIM card, or if it shows "partially registered" here is how you can register in the comfort of your home or office:
Africell: Online Registration
Airtel: Online Registration
MTN: Online Registration or Whatsapp: 0787777755
Vodafone: Whatsapp 0723000723
You can check your status by dialing *197# on all networks. Make sure you're registered before 30th November 2015.